Stephanie Rayner Watercolor Monoprints:
SHOW, SALE & Lecture : Friday, October 25 from 6-8:30pm, meet Stephanie Rayner!
Join us for our opening wine/cheese reception & meet Stephanie Rayner on Friday, Oct 25 from 6pm-8:30pm . She will have over 50 pieces of artwork in this show and sale!
Show continues on  Saturday, Oct 26 from
10am -5pm  with an artist lecture on creativity at 11am & 2pm. Light refreshments.

*Show will continue to be open on Saturdays through November 16, 10am-5pm. Free & open to public.
Stephanie Rayner is a Toronto artist, printmaker, international lecturer and art educator that invented much of this new printmaking process. Ms. Rayner's artworks, shown widely and collected by major art museums, deal with themes and issues relating to spirituality and science. She was
invited by one of China's foremost Art Academy's to lecture on her work and introduce China to the water colour printmaking process she evolved.
PAST SHOWS:
JANET GILL & LOCAL VALLEY ARTISTS
SPRING SHOW, SALE & LIVE MUSIC :

Friday, May 10, 6-8:30pm:
Opening Reception, Spring Art Show & Sale, Live Music & Art with Janet Gill & Local Valley Artists
Saturday, May 11, 10am-5pm:
Show continues & artist demo with Janet Gill

Join us for our opening reception on Friday, May 10 from 6pm-8:30pm for our show, sale and live music  with artist, Janet Gill and fifteen local artists. Meet the artists and enjoy a night of music, art and a wine/cheese reception.  The show will continue Saturday, May 11 from 10am-5pm with a demo with Janet Gill. Show will also continue  consecutive Saturdays for the next 6 weeks.
 Free and open to the public.
A longtime resident of Denmark, Maine, Janet Gill is largely self-taught in the area of pastels and she has been doing it for about 15 yrs. She works on location as well as from photos and is drawn to the rich, pure color of this medium and the energy that can be achieved in its application. Color is what excites her first in a landscape, but she also tries to bring an awareness of the energy that is present in the scene. She loves being outdoors and the inspiration for her art comes from the natural beauty that surrounds her. Throughout Janet's life, music has been another area of expression. Trying to express meaning and
emotion through music as been a lifelong goal. She has been singing and playing the guitar since her teens but has only started to write her own songs in the last few years. For seven years she was the
vocalist in a local jazz ensemble and also sang in the cabarets at the Denmark  Arts Center. For her, 
painting and music have many parallels – color, emotion, rhythm, stories.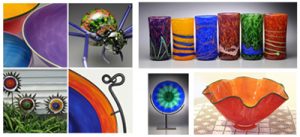 HAND BLOWN GLASS SHOW & SALE: Sat., June 1, 10am-6pm, meet Nathan Macomber
See the new colorful hand blown glass work of meet the artisan! Light refreshments served. 
Nathan Macomber first blew glass at Mass College of Art in 1995. His education in glass continues and includes classes at the Corning Museum of Glass, The Penland School of Arts and Crafts, Haystack Mountain School of Crafts, and a self designed B.A. in glass from Prescott College which he received in 1999. Nathan has not only taken numerous classes and workshops, he has also taught dozens of individuals in private lessons, as a co-instructor for Prescott College, and has served as a T.A. and instructor for The Corning Museum of Glass and Snowfarm- New England Craft.
Nathan spent the first seven years of his career working in Prescott, Arizona, where he helped build and manage a glass blowing studio. In the Spring of 2002, he bought his family's old farm in the White Mountains of New Hampshire. There, he has set up his own private studio where he can be found almost everyday blowing glass, metal working, teaching, or maintaining the hundred year old farm which has been in his family since 1949.
LOCAL ARTISTS:
Gay Freeborn / Oil
Aurora Winkler / Mixed  Media
Laura Guptill / Jewelry
Rebecca Klementovich / Acrylic
Janis Pryor/ Pastel 
Janet Gill/ Pastel
Joelle Goff / Oil
June McLeavey / Mix media
Melanie Barash Levitt/ Oil
Lori Stearns / Mosaic
Matt Brown /  Woodblock Prints
Cole Scott / Photo Encaustic
Byron Carr/Oil & Acrylics
Gallery Open Saturdays from 10am-5pm. Also open by chance or appointment! Call (603) 387-3463
https://www.jacksonartnh.com/wp-content/uploads/2015/11/Jackson-Art-white-Logo-150.png
0
0
Melanie Levitt
https://www.jacksonartnh.com/wp-content/uploads/2015/11/Jackson-Art-white-Logo-150.png
Melanie Levitt
2016-01-13 23:08:08
2019-10-13 09:22:52
Art Show Opening: Oct 25 & 26 featuring printmaker, Stephanie Rayner