(NEW!) May 2019:  Flower Painting Saturday with Amy Brnger
Would you like to spend the day exploring flower painting using large brushes and loose brush strokes? Participants will explore color mixing and see a painting demonstration in the morning.After a quick break for lunch, the afternoon will be spent painting bouquets of flowers.Expect to complete one to two paintings to take home. This is a great workshop for all levels & abilities. Saturday, May 18, 9am-4pm, $165
View Amy's website at www.amybrnger.com
(NEW!) Summer Outdoor Painting with Stapleton Kearns,
July 27,28 & 29
In this three day outdoor painting workshop, Stapleton Kearns will present an orderly and reliable way of helping you get a painting onto  canvas!  To do that, he will explain the materials, their uses and characteristics, and an order of execution in creating a painting. Stapleton will stress picture making and the importance of getting art into the work.
Each morning he will start with a demo and then students will paint while he goes from easel to easel, working with each person individually. He will try to analyze what each student needs to learn and  identify the gaps in their knowledge while giving clear suggestions. He will also emphasize the difference between color and value and will have a lot of solid info to share. This class is suitable for beginner students as well as artists who are trying to cross the line into professionalism. Student will also be introduced to several painting exercises that will help build skills in landscape painting. In the evening after dinner on Sat & Sun night, Stapleton will present a slide show on the history of landscape panting and the design ideas in selected artist's work. The camaraderie is an important part of Stapleton's workshop and he hopes to teach as much as possible in this intense three day class.
Sat., July 27 – Mon., July, 29, (three full days)   9am-5pm, (optional slide show Sat & Sun evening from
7-8:30pm at Jackson Art) $400
To find out more visit Stapleton's blog at  [email protected]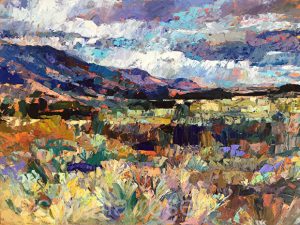 (NEW!) Fall 2019 Plein Air Workshop: Palette Knife Technique with award winning artist, Cynthia Rosen
This two day Fall plein air workshop will take place in the beauty of the White Mountains of NHand will be led by award winning artist, Cynthia Rosen.The richness of the landscape will match that of our color and image exploration.Each day will begin with a painting demo focusing on intent,composition, use of color and technique. Cynthia will demonstrate her unique palette knife technique using a limited color palette. The class will be kept small to allow for individual attention. We will meet at Jackson Art and then travel to painting locations in Jackson, NH. Participants are responsible for bringing their own painting supplies. Oils or acrylics are suitable for this workshop but the instructor will be demonstrating in oils.
Sat. & Sun, Sept 21 & 22, 9am-4pm  $295
(NEW!) Alla Prima Painting with David Lussier (3 days)
Learn to  control the myriad of colors your eyes see when face to face with the autumn landscape in this three day workshop. The White Mountains offer up some of the most breathtaking landscapes in New England. David will begin each day with a demonstration and discussion of his working methods. In an orderly step by step process, he will show you how to simplify shapes, color and value to achieve a successful painting.  He will share his  knowledge of how the bright autumn colors of red, yellow and orange recede into the distance. This is important in being able to give your painting the sense that it is infused with light and atmosphere. Fri, Sat, & Sun, Oct 18-20, 9am-4pm,  $400

See David website at www.davidlussiergallery.com
REGISTRATION IS OPEN FOR 2019 ART CAMPS!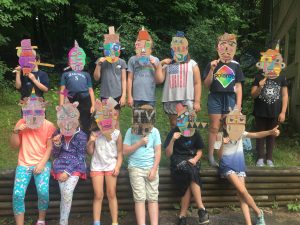 ART CAMP FOR KIDS I, JULY 23-26 (4 DAYS)
This camp is for the kid who loves art and wants to create for FOUR FULL DAYS! Students will work on numerous projects each day and be exposed to a variety of materials and techniques. Space is limited and only high quality art materials are used.  Some projects include: Georgia O'Keefe acrylic flower paintings, mixed media self portraits, washer wind chimes, clay leaf bowls, batik nature hangings, Jackson Pollock splatter art,  rock creatures, insect studies, zentagles, colorful collage, mosaic stepping stones, watercolor technique, outdoor nature drawing, games. art history & more! Please pack snack, lunch & white t-shirt. SPACE IS LIMITED TO ALLOW FOR PERSONAL ATTENTION!
July 23-July 26 (4 full days) Ages 6-13 yrs,  $320,  9am-3pm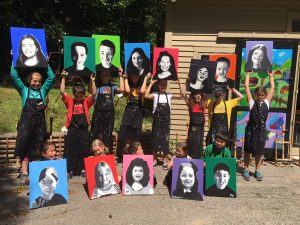 ART CAMP FOR KIDS II, AUGUST 5-9 (5 DAYS)
This camp is for the kid who loves art and wants to create for five full days! Students will work on numerous projects each day and be exposed to a variety of materials and techniques. Space is limited and only high quality art materials are used. Some projects include: Mt Washington acrylic paintings, rainbow weavings, clay birds, funky self portraits, colorful wire sculpture, modge podge watercolor collage, mosaic stepping stones,   Jackson Pollock splatter painting,  Japanese brushstroke painting, rock pets, mini mosaic fairy/gnome houses, Miro watercolors, outdoor nature drawing, games, art history & more! . Please pack a snack, lunch & white t-shirt. At the end of the week the kids will put on their own art show. SPACE IS LIMITED TO ALLOW FOR PERSONAL ATTENTION! Students will leave with more artwork in one week than they do an entire year at school.  
Aug. 5-9 ( 5 full days) Ages 6-13 yrs $395 9am-3pm-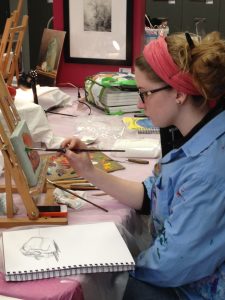 TEEN SUMMER STUDIO ARTS (4 EVENINGS-JULY 29-AUGUST 1)
This evening program for teens will run for four consecutive nights and will expose students to a variety of art forms including drawing, Japanese brushstroke painting, mixed media and mosaics.  Day one will focus on drawing. Each student will work at their own level on a still life composition. Line, shadow, form and composition will be covered.  Day two will focus on Japanese brush stroke painting. Students will learn how to do basic sumi-e brushstrokes working with black ink on rice paper. They will complete a finished bamboo painting along learn about sumi-e materials. Day three we will focus on mixed media. Students will create a unique piece of art using recycled materials. The last day will focus on mosaics. Students will create their own mosaic project using broken tile, glass beads, stones, shells and other materials. All the supplies are included, but students should bring a notebook or sketchbook. No prior art experience is required and all levels are welcome. Class will be limited to 8 students to allow for individual attention.
Mon-Thurs, July 29- Aug 1, Ages 13-19 yrs, $285 includes all supplies