NEW HOLIDAY December  Sip & Paint Schedule! Make your own Holiday Gifts!
Click here for Calendar and Registration

Mosaic Wooden Fish Plaque With Lori  Stearns
(also open to teens)
Learn the ancient art of mosaics.  In this full day class, you will create a beautiful large wooden 12″x30″ mosaic plaque of a fish in your own unique design.  This is a structured, hands-on class!  Instruction will cover design techniques, adamant, opus, color, materials, history of mosaics, adhesives, mosaic bases, tools, and cutting techniques.  All supplies included. This class is great for beginners and experienced students who would like a more in depth exploration of this fine art!  Class size will be small to allow for individual attention. Please pack a lunch or one can be ordered. Although supplies are included, you can bring optional small bits to personalize your project. (ie:stones, shells, broken pottery, sea glass, buttons, etc) Also open to teens.
Saturday, Nov 17,  $135  10am-3pm
KIDS! Make your own HOLIDAY GIFTS! (after school)
with Melanie Levitt & Lori Stearns
In this 4 week after school class, students will spend time doing something fun & creative while also making unique holiday gifts for their loved ones!  Each week we will create one gift and it will come home all wrapped up in hand made wrapping paper. Projects include: penguin paintings, mosaic initial plaques, hand painted snowman glasses, clay impression ornaments, holiday cards, & hand stamped wrapping paper. Why buy gifts when you can make them yourself? If students miss a class, supplies from that class will be sent home for them to finish on their own! At the end of the four weeks, everything will be wrapped up and ready to put under the tree!  Students from Jackson & Bartlett can take the bus to Jackson Art but need to arrange with the school and let us know if they are arriving on the bus. Please pack a snack/drink to bring to class. 
Wednesdays, Nov 28- Dec 19 (4 session) 4-5 pm   $88    Ages 6-14 yrs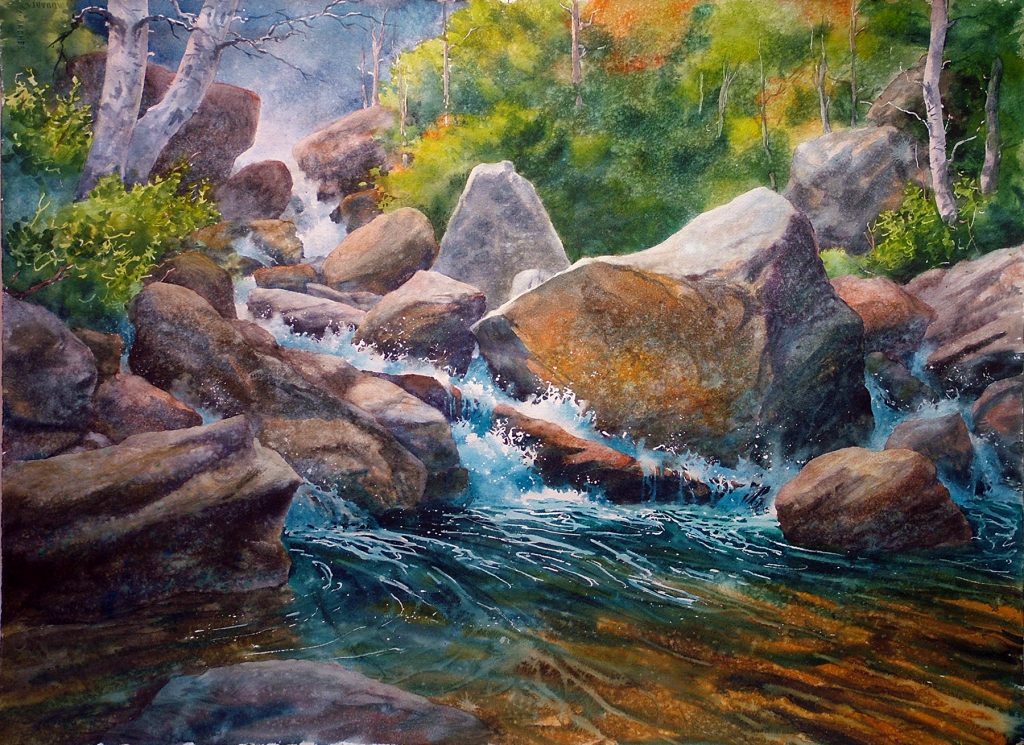 Weekend Watercolor Workshop: Paint Until the Magic Happens with Byron Carr
In this two day watercolor workshop, participants will learn unique watercolor techniques with watercolor artist, Byron Carr. Each day will start off with an informative instructor demonstration. Students will learn to build up a painting while having fun. We will slop, splash, scrub and splatter to create interesting textural effects in watercolor. Bring your own photos or the instructor will provide some and will help you get started with design and compostion. Lots of time to paint and experiment.  To make sure you are successful,  Bryon will include the "Right Stuff Kit"   that supplies you with paint, big brushes, 2 large sheets of paper and all you will need to have fun and do lots of painting. This is included in the class. You can also bring some of your own supplies. This class is open to all levels & abilibites.
Saturday & Sunday, Jan 12 & 13, 9am-4pm  $245 (includes use of supplies)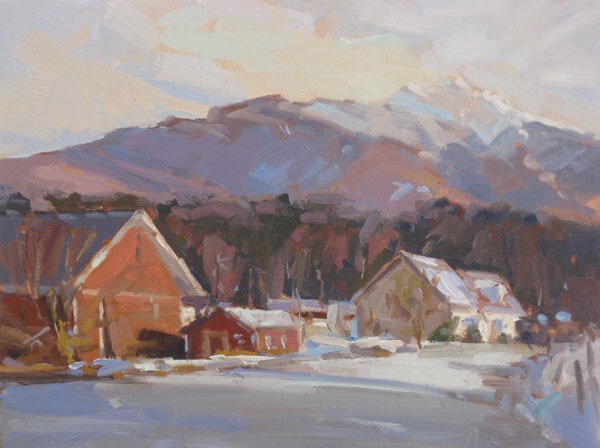 The Color of Snow: Weekend Painting workshop with David Lussier
Learn to paint the beauty of a winter landscape in the comfort of a warm studio in the heart of the White Mountains! Learn the general guidelines for painting snow scenes that include choosing the right palette for the task, understanding how to capture the high key effect of bright sunlight and how reflected light gets bounced around a snow covered landscape.
David will begin each day with a one hour demonstration and discussion of his working methods in an orderly step by step process of simplifying shapes, color and value to achieve a successful painting infused with color and light. Students will work from their own photos or choose a photo from our vast library of 8×10 winter landscape references. David will offer individual help to each student towards a successful painting each day. Class size is limited to 10. Deadline for sign-up, Feb 25.
Saturday & Sunday, March 2 & 3, 10am-4pm,  $275

Lussier is an award winning contemporary impressionist and nationally recognized plein air painter and workshop instructor. He is a painter in the purist sense of the word. In his poetic and intimate oil landscapes he strives to capture the essence and sense of place of his subject matter. His use of bold broad brushwork brings the surfaces to life and begs the viewer to return for a second look. David started his career as a commercially trained illustrator, but he quickly realized that his passion was in the fine arts. He has been painting professionally for more than twenty five years, has garnered more than 75 prizes for his work and is in numerous private and corporate collections throughout the United States. His work has been featured in many art journals and he is a professional member of some of the finest art associations and groups in the country. David is also an official U.S. Open artist for the United States Golf Association. Four of his paintings hang in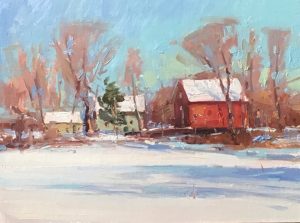 the permanent collection of the USGA Museum in Far Hills New Jersey.  
See David website at www.davidlussiergallery.com