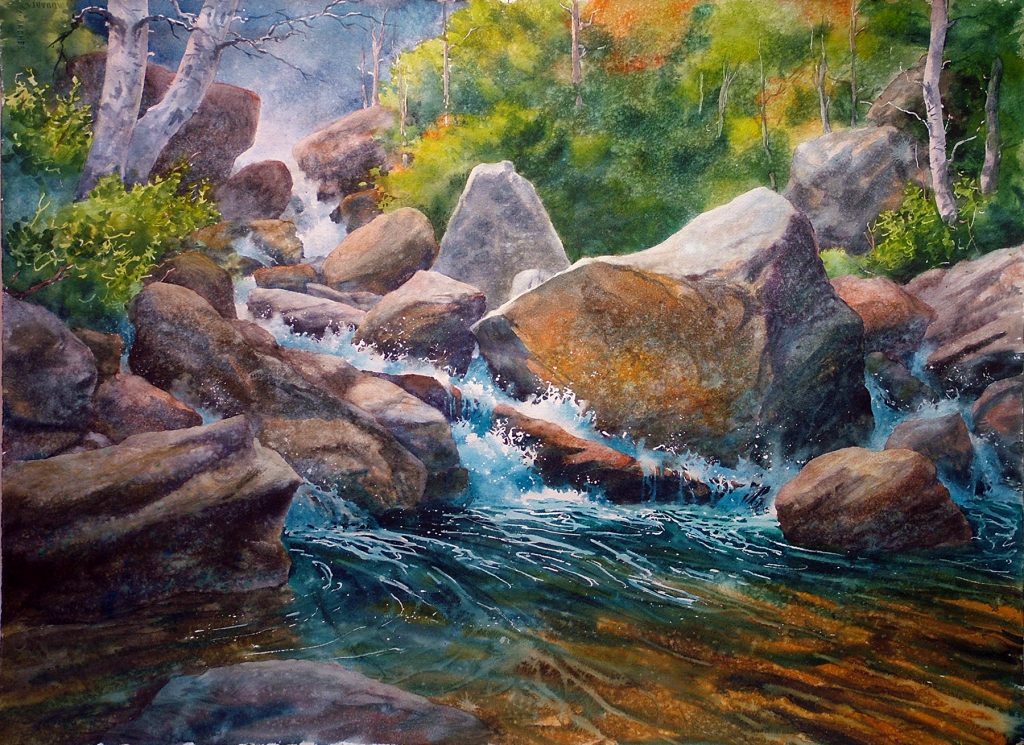 SOLD OUT!
Weekend Watercolor Workshop: Paint Until the Magic Happens
with Byron Carr
In this two day watercolor workshop, participants will learn unique watercolor techniques with watercolor artist, Byron Carr. Each day will start off with an informative instructor demonstration. Students will learn to build up a painting while having fun. We will slop, splash, scrub and splatter to create interesting textural effects in watercolor. Bring your own photos or the instructor will provide some and will help you get started with design and compostion. Lots of time to paint and experiment.  To make sure you are successful,  Bryon will include the "Right Stuff Kit"   that supplies you with paint, big brushes, 2 large sheets of paper and all you will need to have fun and do lots of painting. This is included in the class. You can also bring some of your own supplies. This class is open to all levels & abilities. Saturday & Sunday, Jan 12 & 13, 9am-4pm  $245 (includes use of supplies)
SOLD OUT!  January 2019: Light & Shadow: Winter Landscape Painting for Beginners with Melanie Barash Levitt
In this 3 week painting workshop, beginner students will learn how to sketch and paint a winter landscape scene in either oils or acrylic with an emphasis on creating light and shadow with an impressionistic approach. Photos will be provided as a reference or students can bring their own. The instructor will lead the class with demonstrations, from initial sketch to finished painting. Instruction will be given in composition, sketching, value, color mixing, brushwork and use of materials. This class is suitable for the beginner student who wants to further their skills. Oils or acrylics are suitable for the class but the instructor will be demonstrating in oils. (Jackson Art can provide you with use of art materials including  for a fee of $75 for the three sessions: includes use of oil paints, brushes, palette, rags, gamasol, canvas, & drawing supplies) Class size is limited to allow for individual attention. This class is open to adults & high school students.
Mondays,  Jan. 21-Feb 11 (no class on Feb 4),  6-8:30pm   $165 (3 sessions)
(CHANGE OF DATE!) KIDS! Painting Mt Washington (After School Class)
In this 3 week painting workshop for kids, students will learn how to paint a winter scene of Mt Washington with acrylic paints on canvas. Instruction will be given in composition, sketching, value, color mixing, brushwork and use of materials. This class is suitable for all levels and abilities for students from 7 to 13 yrs old. (some 6 year olds will be considered if parents think they have the attention span.)All supplies are included. Class size is limited to allow for lots of individual attention. Jackson & Bartlett students can take the bus to the studio but need to arrange it prior with school. Please pack a drink & snack.
April

 1-18, 3:45-5pm $85, Ages 7-13 yrs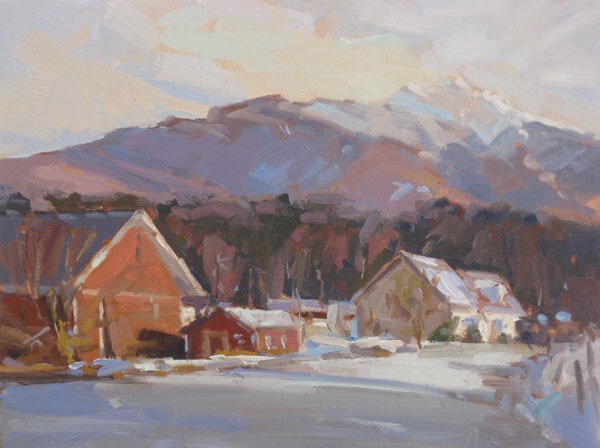 SOLD OUT!
The Color of Snow: Weekend Painting workshop with David Lussier
Learn to paint the beauty of a winter landscape in the comfort of a warm studio in the heart of the White Mountains! Learn the general guidelines for painting snow scenes that include choosing the right palette for the task, understanding how to capture the high key effect of bright sunlight and how reflected light gets bounced around a snow covered landscape. David will begin each day with a one hour demonstration and discussion of his working methods in an orderly step by step process of simplifying shapes, color and value to achieve a successful painting infused with color and light. Students will work from their own photos or choose a photo from our vast library of 8×10 winter landscape references. David will offer individual help to each student towards a successful painting each day. Class size is limited to 10.
Saturday & Sunday, March 2 & 3, 10am-4pm,  $275
See David website at www.davidlussiergallery.com
(NEW) February 2019: Mosaic Initial Plaque With Lori  Stearns

Learn the ancient art of mosaics.  In this full day class, you will create a beautiful large wooden mosaic plaque of an initial letter of your choice in your own unique design.  This is a structured, hands-on class!  Instruction will cover design techniques, adamant, opus, color, materials, history of mosaics, adhesives, mosaic bases, tools, and cutting techniques.  All supplies included. This class is great for beginners and experienced students who would like a more in depth exploration of this fine art!  Class size will be small to allow for individual attention. Please pack a lunch or one can be ordered. Although supplies are included, you can bring optional small bits to personalize your project. (ie: stones, shells, broken pottery, sea glass, buttons, etc)  
Saturday, Feb 16  $125  10am-3pm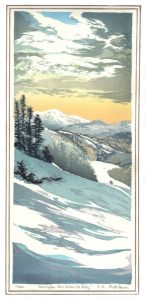 (NEW!) March 2019: Japanese Color Woodblock Printing with Matt Brown
This exciting two day workshop is organized to offer a comprehensive introduction to the wonderful range of tools, techniques, and materials involved in the traditional Japanese hanga method. Hanga is color woodblock printing using water with multiple carved wood blocks, pigments, rice paste and a hand-held baren instead of a press. Everyone engages with aspects of design, carving, and printing.There is an emphasis on sharing tricks and techniques that may be adapted to other art-making. All tools and materials provided; all experience levels welcome. A $65 materials fee paid to instructor at the class. Sat. & Sun., March 30 & 31,  9am-5pm  $300
View Matt's website at www.ooloopress.com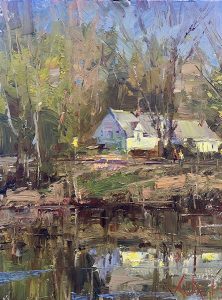 (NEW!) April 2019: Key Elements of Plein Air Painting with nationally recognized artist, George Van Hook(oil, pastel, watercolor, acrylic).
Join George Van Hook for this two day plein air workshop in the White Mountains. George stresses alla prima painting using a loose and fast approach to capturing the landscape in the first try. He is brilliant at maintaining luscious, shimmering, thick qualities of oil colors that accurately describe the figures, barns, clouds, and vegetation in his painting. We will begin each day with a demo by the artist.At that time, George will discuss composition, laying out the pallet, proper use of materials and all other aspects of plein air painting.We will then break up into groups and paint individually.George will provide individual instruction helping solve the issues for each artist.After lunch, Georgewill do another quick demo to refresh the ideas presented at the start.Painters will start a second painting for the afternoon with additional individual instruction.Participants will be meet at Jackson Art and then travel to painting locations nearby. Please bring your own plein air equipment and media. (oil, pastel, watercolor, acrylic).Sat & Sun., April 27 & 28,
9am-4pm, $285 (meet at Jackson Art)
View George's website  at www. georgevanhookfineartist.com
(NEW!) May 2019:  Flower Painting Saturday with Amy Brnger
Would you like to spend the day exploring flower painting using large brushes and loose brush strokes? Participants will explore color mixing and see a painting demonstration in the morning.After a quick break for lunch, the afternoon will be spent painting bouquets of flowers.Expect to complete one to two paintings to take home. This is a great workshop for all levels & abilities. Saturday, May 18, 9am-4pm, $165
View Amy's website at www.amybrnger.com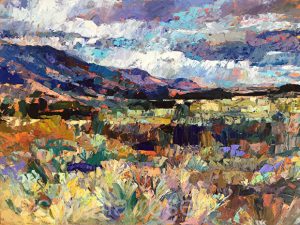 (NEW!) Fall 2019 Plein Air Workshop: Palette Knife Technique with award winning artist, Cynthia Rosen
This two day Fall plein air workshop will take place in the beauty of the White Mountains of NHand will be led by award winning artist, Cynthia Rosen.The richness of the landscape will match that of our color and image exploration.Each day will begin with a painting demo focusing on intent,composition, use of color and technique. Cynthia will demonstrate her unique palette knife technique using a limited color palette. The class will be kept small to allow for individual attention. We will meet at Jackson Art and then travel to painting locations in Jackson, NH. Participants are responsible for bringing their own painting supplies. Oils or acrylics are suitable for this workshop but the instructor will be demonstrating in oils.
Sat. & Sun, Sept 21 & 22, 9am-4pm  $295
(NEW!) Alla Prima Painting with David Lussier (3 days)
Learn to  control the myriad of colors your eyes see when face to face with the autumn landscape in this three day workshop. The White Mountains offer up some of the most breathtaking landscapes in New England. David will begin each day with a demonstration and discussion of his working methods. In an orderly step by step process, he will show you how to simplify shapes, color and value to achieve a successful painting.  He will share his  knowledge of how the bright autumn colors of red, yellow and orange recede into the distance. This is important in being able to give your painting the sense that it is infused with light and atmosphere. Fri, Sat, & Sun, Oct 18-20, 9am-4pm,  $400

See David website at www.davidlussiergallery.com
REGISTRATION IS OPEN FOR 2019 ART CAMPS!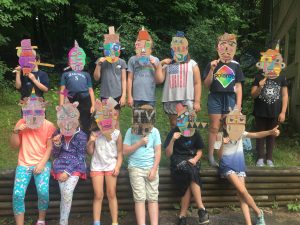 ART CAMP FOR KIDS I, JULY 23-26 (4 DAYS)
This camp is for the kid who loves art and wants to create for FOUR FULL DAYS! Students will work on numerous projects each day and be exposed to a variety of materials and techniques. Space is limited and only high quality art materials are used.  Some projects include: Georgia O'Keefe acrylic flower paintings, mixed media self portraits, washer wind chimes, clay leaf bowls, batik nature hangings, Jackson Pollock splatter art,  rock creatures, insect studies, zentagles, colorful collage, mosaic stepping stones, watercolor technique, outdoor nature drawing, games. art history & more! Please pack snack, lunch & white t-shirt. SPACE IS LIMITED TO ALLOW FOR PERSONAL ATTENTION!
July 23-July 26 (4 full days) Ages 6-13 yrs,  $320,  9am-3pm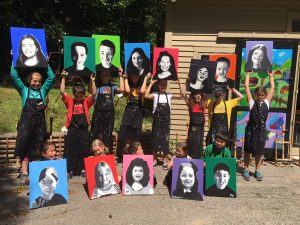 ART CAMP FOR KIDS II, AUGUST 5-9 (5 DAYS)
This camp is for the kid who loves art and wants to create for five full days! Students will work on numerous projects each day and be exposed to a variety of materials and techniques. Space is limited and only high quality art materials are used. Some projects include: Mt Washington acrylic paintings, rainbow weavings, clay birds, funky self portraits, colorful wire sculpture, modge podge watercolor collage, mosaic stepping stones,   Jackson Pollock splatter painting,  Japanese brushstroke painting, rock pets, mini mosaic fairy/gnome houses, Miro watercolors, outdoor nature drawing, games, art history & more! . Please pack a snack, lunch & white t-shirt. At the end of the week the kids will put on their own art show. SPACE IS LIMITED TO ALLOW FOR PERSONAL ATTENTION! Students will leave with more artwork in one week than they do an entire year at school.  
Aug. 5-9 ( 5 full days) Ages 6-13 yrs $395 9am-3pm-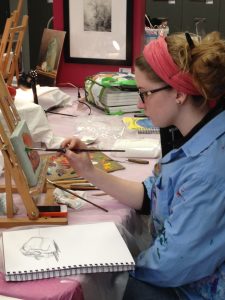 TEEN SUMMER STUDIO ARTS (4 EVENINGS-JULY 29-AUGUST 1)
This evening program for teens will run for four consecutive nights and will expose students to a variety of art forms including drawing, Japanese brushstroke painting, mixed media and mosaics.  Day one will focus on drawing. Each student will work at their own level on a still life composition. Line, shadow, form and composition will be covered.  Day two will focus on Japanese brush stroke painting. Students will learn how to do basic sumi-e brushstrokes working with black ink on rice paper. They will complete a finished bamboo painting along learn about sumi-e materials. Day three we will focus on mixed media. Students will create a unique piece of art using recycled materials. The last day will focus on mosaics. Students will create their own mosaic project using broken tile, glass beads, stones, shells and other materials. All the supplies are included, but students should bring a notebook or sketchbook. No prior art experience is required and all levels are welcome. Class will be limited to 8 students to allow for individual attention.
Mon-Thurs, July 29- Aug 1, Ages 13-19 yrs, $285 includes all supplies