Composing the Fall Landscape (en plein air) w/ TM Nicholas, Oct 14 &15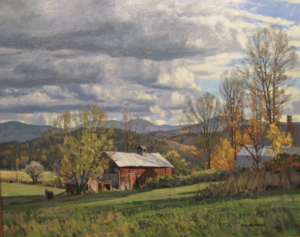 Description:
Fall in the White Mountains of NH is one of the most beautiful times to paint outside! This workshop will take place during PEAK FOLIAGE.
Join us for this exciting two-day weekend plein air painting workshop with esteemed painter TM Nicholas. In this workshop, TM will will start each day with a demo on location and discuss how to choose and feature the subject of the painting. He will instruct students on how to simplify a complicated scene and break it down while still getting a realistic feel.  Instruction in creating rythym in your painting, color mixing and value will also be covered as well as one on one instruction at the easel. Class size will be kept small for individual attention. We will paint outside at locations TBD. In case of inclement weather we will paint at Jackson Art. All levels welcome but some painting experience helpful. Students are responsible for bringing their own supplies and a plein air easel
Saturday & Sunday, Oct 14 & 15, 9am-4pm $345
Cancellation Policy: We ask that you to give us four weeks notice if you need to cancel for a full refund minus a $45 cancellation fee. Cancellations should be made by phone by calling (603) 387-3463. This provides us the opportunity to fill the space. We are sorry, but we cannot give refunds or issue credits for missed classes or no shows.  
To view TM's work, please visit https://tomnicholasgallery.com/artists/tm-nicholas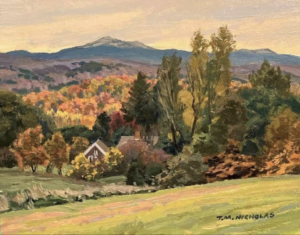 Workshop Materials List:
OIL PAINTS: You can bring whatever you usually paint with. 
A good basic palette would be:
-Ultramarine Blue
-Colbalt Blue
-Cadmium Red
 -Alizarin Crimson
-Cadmium Yellow Deep
-Lemon Yellow
-Burnt Sienna
-Ivory Black
-Titanium White (large tube)
Because of time restraints in addition to these colors I use:
(don't feel like you have to buy these colors, bring what you have.)
-Windsor Newton Underpainting White, large tube
-Pthalo Blue
-Chromium Oxide
-Permanent Green
-Colbalt Violet
-Raw Umber
-Yellow Ochre
OTHER SUPPLIES:
Outdoor Painting Easel 
(Jackson Art has a limited amount of Half Box French Easels that can be rented for the weekend for $25. Please reserve in advance)
Paint Palette (good size)
Oderless Mineral Spirits (gamasol)
Good selection of bristle bruses #2 and up (mostly flats and a few rounds)
Few liner brushes (bristle or synthetic)
Few soft brushes mostly smaller sizes
Sketch book with pencil or soft vine charcoal
At least one surface to paint on each day: board, canvas board, canvas size 11x14, 12x16 or 16x20" 
Tissues or paper towel
Cans or jars to hold spirits, brushes, etc
Trash bags
Outdoor weather gear
Sunscreen
Bug repellent
Hat
Light rain coat
Easel umbrella (optional but good to have)
Water 
Lunch (can be brought or one can be picked up)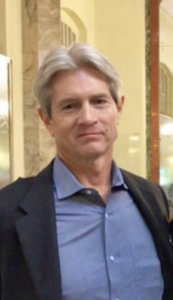 Born in Rockport, MA, T. M. Nicholas grew up admiring the rugged beauty of the northeast coastline of the United States. He quickly grew to appreciate the unique landscapes of coastal New England.
His father, esteemed painter Tom Nicholas, offered advice to help T. M. develop his own individualistic style and become the plein air painter in oils that he is today. He is considered one of the most important painters of the Cape Ann School working today.
Besides his father, T. M. studied under John Terelak at the Gloucester Academy of Fine Arts. He also studied part-time under Boston area artist George Gabin at Monserrat School of Art, with emphasis on realistic paintings and drawing.
A winner of many awards since 1982, T. M. Nicholas is a member of Rockport Art Association, Guild of Boston Artists, Whiskey Painters of America, Hudson Valley Artists, Allied Artists of America, Academic Artists, American Artists Professional League, New England Watercolor Society, and the North Shore Arts Association. His paintings are in many museum and private collections, including the Peabody Essex Museum and the Cape Ann Historical Museum.