Intro to Pastels w/Terri Brooks, Sunday, March 19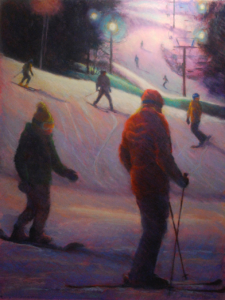 Description:
Join award winning artist Terri Brooks for this one day pastel painting workshop. Using photographs as a  reference, students will create paintings of figures in the winter landscape using pastel over a watercolor underpainting. They will learn how to prepare their paper and transfer the image of the figure using graphite transfer paper (provided). Terri will demo each step and students will leave with a completed painting. Students are expected to bring most of their own supplies. A material fee of $10 will be paid directly to the instructor for some of the supplies. (info below) No prior painting experience is needed for this class. All levels. The instructor can provide photos or students can bring their own. Class size is limited to eight people.
Sunday, March 19, 10am-5pm $165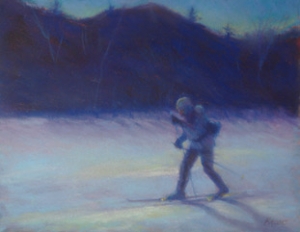 SUPPLY LIST:
A piece of plywood or gator board a bit bigger than your finished piece. Nothing over 18x24. Your watercolor and or gouache paints.
Your watercolor brushes. One large sky brush would be helpful. And some smaller ones.
Pastels: They are pricey. And most serious pastel artists have a ton. It is better to pick up the color you want rather than mixing. So if you are just starting out I recommend the following: A large set of hard pastels. They are cheaper and the work horse of pastels. They are the building block of your pastel tools. Unfortunately, many companies no longer sell individual sticks. I prefer NuPastel, I think their color selection is best. I have a 96 set. Please have at least the 48 set.
https://www.dakotapastels.com/product/nupastel-48-assorted?cat=151&idsku=10393
Soft pastels: there are many brands, I like them all. You can buy most brands as individual sticks or some have half stick sets.
In this project you will need an assortment of snow colors-no white. So really look at snow colors light yellow, pinks, lavenders, light blues, greens. And some darks for your people and structures and trees.
Dakota also has sampler sets of 12 soft pastels some of each brand so that you can try before buying a larger set. I saw they have a SAMPLE LIGHT 12 set which has great snow colors for $55.
Another inexpensive option for soft pastels is Mungyo. Not professional or archival, but if you are just looking to try your hand at pastel before committing to the medium, they work ok for the price. You will still need the NuPastels, however.
https://www.dickblick.com/items/mungyo-gallery-artists-soft-pastels-set-of-72-wooden-box/
https://www.dakotapastels.com/product/Pastel-Samplers?cat=10&idsku=17131
Go to Dakota Pastels and Dick Blick. Prices are similar, Dakota has more selection.
Here are a few small sets I found on the Dakota site. Don't buy them all, just see what makes sense for you. You may want a bigger set because you want to paint more with pastels or maybe you just want individual colors for this class.
Unison 8 mini blue. $16.95
Blockx 24 light $80.00
Unison 30 half assortment$88.95
Girault 25 highlights $130.00
Great American 18 half TryMe Blue $49.95
Great American 18half Try me purple $49.95
Sennelier6 pc half winter $11.95
Sennelier 6 pc half stormy sky $11.95
Schminke 50 half stick $125.95
Dakota has a comparison of softness on their website Schminke is the softest. The softer the stick, the harder to make changes. But many artists love the softest ones
My preferences are Girault and Terry Ludwig. Of course, neither come in a half stick set! I have some of all the brands listed, mainly I chose according to color rather than softness.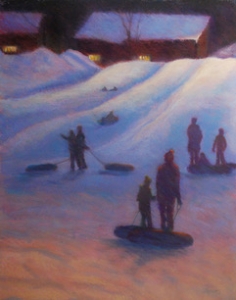 Also helpful, a hair dryer, a staple gun, although I will bring mine and we can share.
And photos, I prefer them printed as I sometime cut and paste or draw on them. But if you love your IPad, go for it. Night and or day. Skiers, snowshoers, ice fishermen, etc. You most likely can't get everything you need from one photo, so bring a bunch. Remember, figures, not portraits, we are not doing faces. We are seeing the people as shapes if that helps. So interesting poses.
Material fee. $10. Newsprint to sketch on and as a pad under your paper and a piece of 22x30 Rives BFK. You will have extra to bring home. ( If you have RivesBFK already and a supply of newsprint, you can forego the fee.)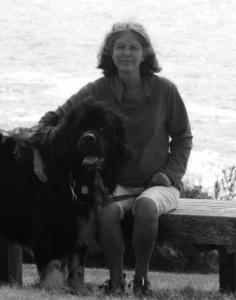 TERRI BROOKS
"I can hardly remember a time when I was not creating art or teaching someone else how to. I majored in sculpture and art education in college and spent 32 years teaching art in public schools. Although sculpture was my first love in college, I quickly found that working full time, and raising a family did not afford me the time and the needed studio set up to do that. I switched my creative efforts to watercolor and pastel. I am a signature member or New England Watercolor Society and Pastel Society of America as well as other groups. My worked has been honored with many awards in national shows.
I retired from teaching several years ago and have since devoted my time to my painting. A couple of years ago I also started doing monotypes and woodcuts. I always loved teaching printmaking to my students and found that having additional media for myself has enabled me to continue of my creative path."
To view more of Terrie's work visit https://www.terribrooksart.com/about
Cancellation Policy: We ask that you to give us two weeks notice if you need to cancel for a full refund minus a $20 cancellation fee. Cancellations should be made by phone by calling (603) 387-3463. This provides us the opportunity to fill the space. We are sorry, but we cannot give refunds or issue credits for missed classes or no shows.