Painting Figures in the Landscape w/ Ken DeWaard, March 4 & 5
Description:
Join award winning artist Ken DeWaard in this weekend studio workshop where the focus of the class will be exploring the importance of adding figures to your landscape painting. Whether it is a key element in the painting or only of secondary importance, adding figures can make a world of difference between an everyday landscape versus an energetic and  meaningful narrative in a painting. Students will learn how to assess the importance in the overall placement, sizing, and  handling of the figure. We will work to simplify our overall shapes to get the essence and gesture of the figure. Our values as well as drawing will serve as our foundation on which we will build upon. Using temperature as well as light and shadow patterns along with our edges, we will look to get the likeness as well as the attitude and mannerism of the figure. We will not be a slave to the reference but learn how to interpret the essence of it. Individualized critique at the students easel will form the basis for instruction as well as an oil painting demonstration during morning session. Students may work in the painting medium of their preference, be it oil, watercolor, pastel, or acrylic. The instructor will be using oils. Please bring some reference photos and supplies listed below. Saturday & Sunday, March 4& 5, 2023, 10am -4pm $325
"My personal objective during this workshop is to make sure that each and every
student experiences advancement as well as a better understanding." - Ken DeWaard, Instructor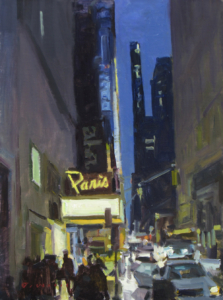 Suggested Supply List
Panels/Canvas: You'll need 4-8 panels or stretched canvases 8x10 to 12x16 suggested size. Substrate could be Canvas, Linen, or Masonite your choice. It is always better to have too many panels than not enough, also size is only suggested, personal preference is fine.
Tonal Ground on canvas / panel is optional.
Paints: Your usual palette is fine and any brand. Suggested Limited Palette: Titanium White, Cadmium Yellow, Permanent
Alizarin Crimson, Naphthol Red Light, Ultramarine Blue ( or Cobalt Blue ), Black.
Portable Easel: Such as EASyL, Open Box M, Beauport, Soltek, Guerrilla, French, etc.
Palette: To mix your paint. Either separate, hand held, or mounted in your box. Palette knife for cleaning off palette.
Brushes: Synthetic or Hog bristles for Oils - Your preference
Odorless Mineral Spirits: Gamsol Odorless Mineral Spirits only, best for inside use.
Turp Cup: Container or brush cleaner for Odorless Mineral Spirits.
Paper Towels or rags: Viva brand is recommended.
Vine Charcoal: Medium stick
Small Trash bags. Sketch pad for notes.
Students will be provided with a small side table. Please bring your own easel and carry out trash.
Ken's Materials: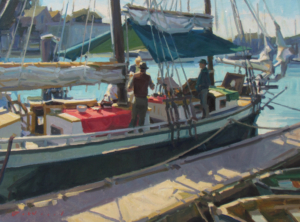 Easel: Beauport "Gloucester Style" • Palette: Hand held, wood primed with Linseed Oil
Panels: Oil Primed Linen Panels, Tonal Ground • Paints: Utrecht, Gamblin, Winsor Newton
Titanium White, Zinc Yellow, Cadmium Yellow Pale, Yellow Ochre, Cadmium Orange Hue, Naphthol Red Light, Permanent Alizarin Crimson, Ultramarine Blue, Prussian Blue, Ivory Black, Transparent Iron Oxide Red.
Brushes:Simply Simmons Filberts / Rosemary Co. Evergreen Series - Filberts 2, 4, 6, 8, 10 
Cancellation Policy: We ask that you to give us four weeks notice if you need to cancel for a full refund minus a $45 cancellation fee. Cancellations should be made by phone by calling (603) 387-3463. This provides us the opportunity to fill the space. We are sorry, but we cannot give refunds or issue credits for missed classes or no shows.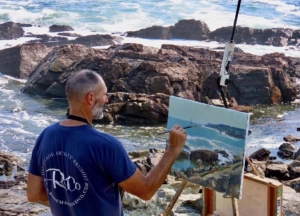 Kenneth DeWaard - (b. 1962) has been painting en plein air for more than thirty years. He began his career studying watercolor under Irving Shapiro at the American Academy of Art in Chicago and then continued his early training at the acclaimed Palette and Chisel Academy of Fine Art with Scott Burdick as well as independent study with Daniel Gerhartz.
He has won numerous awards around the country at various plein air events and invitationals such as Easton, Laguna Beach, Door County, Cape Ann, Sonoma, Richmond, and Florida, as well as painting in China, Italy, and Russia.
Looking past the obvious, getting the essence and beauty of the scene is my intention. Finding the inner elegance be it with line, mass, shape, and color harmony.
My goal is to inspire those who see my work to look more carefully at the world around them, to discover the beauty in everyday places.
To see more of Ken's work visit http://www.kendewaard.com/