Nostalgic Impressionism with Kathie Odom, June 19-21, 2023
Description:
With excitement we welcome Tennessee plein air painter, Kathie Odom, to the White Mountains of NH for this three-day oil painting workshop. The focus of the class will be on painting NH barns and structures in the landscape. Kathie calls herself a "Nostalgic Impressionist" as a way of identifying the subjects and style of painting that interest her. Her aim is to show the story behind what often appears to be an ordinary scene... through painting on location. Kathie will help students find spontaneity, excitement and a greater comfort level painting en plein air. Students will find answers to questions like: What location do I choose? How do I start an outdoor painting? When should I stop? Should I take photos? What's my first move? The colors vary as the sun moves across the sky... what do I do next?
Kathie will do a demo each day mixed with personal instruction at easel as you paint alongside her. Students will also learn about harmony in composition, the colors of light, alla-prima lay-it-and-leave-it brushwork, and the beauty of restraint.  Plus, how to have some great fun in the midst of it all! This class is suitable for the confident beginner through advanced painter. Class size limited to 15.
June 19-21, 2023 (3 day workshop) 10am-4pm $485
(Plein Air Locations near Jackson Art TBD)
Cancellation Policy: We ask that you to give us six weeks  notice if you need to cancel for a full refund minus a $50 cancellation fee. Cancellations should be made by phone by calling (603) 387-3463. This provides us the opportunity to fill the space. We are sorry, but we cannot give refunds or issue credits for missed classes or no shows.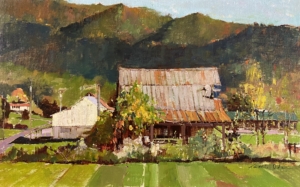 Suggested Supply List from Kathie Odom

Below is my palette. Please bring good quality paint, no student grade paints. (I find that students get frustrated with student grade or different brands of oil paint when trying to learn some of my color mixing and techniques) *Note Below: Different Companies may use the same color names but they are actually different hues!!!!(example – Gamblin's Cad Yellow Deep is different from Winsor Newton's Cad Yellow Deep).
Please note the words: THIS IS REQUIRED
-  Titanium White (Blue Ridge Oil Colors)
-  Cadmium Lemon (Gamblin)
-  Cadmium Yellow Pale (Winsor Newton)
-  Cadmium Yellow Deep (Winsor Newton)
-  Cadmium Red Light (Gamblin) *
-  Cadmium Red Light (Rembrandt)... yes, I use two Cad Red Lights *
-  Yellow Ochre Light (Winsor Newton)
-  Viridian (Rembrandt)

THIS IS REQUIRED

-  Cadmium Red Deep (Gamblin)
-  Terra Rosa (Winsor Newton)
-  Alizarin Crimson (Gamblin)
-  Transparent Red Oxide (Rembrandt)

THIS IS REQUIRED

-  Cerulean Blue (Winsor Newton)
-  Cobalt Blue (Gamblin)
-  Ultra Marine Blue (Gamblin)
-  Gamblin Solvent-Free Gel
-  Quinacridone Rose (Rembrandt)
-  Colbalt Violet (Winsor Newton)
-  Violet Grey (Holbein)
-  Indigo (Rembrandt)
-  Kings Blue (Rembrandt)
-  Radiant Turquoise (Gamblin)
-  Magenta (M. Harding)
THIS IS RECOMMENDED

-  A Glass surface to mix your paints on (no paper please). You may already have glass in your easel... If not, one inexpensive way is to purchase a picture frame at Walmart or local Goodwill... 11x14 or larger.
-  Empty, clean pizza boxes are a great way to transport wet paintings. So drop by your local pizzeria and plead your case!
KATHIE'S PLEIN AIR SUPPLIES –PLEIN AIR EASEL IS  REQUIRED
- One Outdoor/portable easel such as–
o Alla Prima Pochade Box – this is the brand I use. (allaprimapochade.com)
o The Edge easel (for those with some experience in plein air) lightweight and the size of a laptop (edgeprogear.com)
o Strada, Soltek or a good solid French easel.
(Jackson Art has some French easels for rent if needed)
-  Palette Knife (I use "Liquitex Small Knife #5")
-  Brush Washer (I use a Newton 5" tall clamped lid washer)
-  Viva paper towels (smooth textured) these are the best... no substitutions please
-  Sketch pad and pencil
-  Mineral Spirits – Gamblin Gamsol only (if flying in, Gamsol will be provided)
-  Plastic grocery bags for trash
-  TV Tray or portable lightweight table (optional). I use a 24" tall folding camping table. If traveling from out of town
-  Cotton cosmetic swabs (I buy mine at Sally's Beauty Supply called Eye Tees, PrecisionMakeup Applicators). They have a small pointed end and a wider flat end. If you can'tfind these, I will have extras.
-  Baby Wipes or ways of cleaning your hands
-  An Old walking cane or mahl stick
-  A good hat to block the sun!
-  I will be doing demos in the field, so you might want to bring a folding chair or stool.BRUSHES –Visit Rosemaryandco.com and search for Kathie Odom's Brush Set (This will show the types and sizes of brushes I use).CANVAS –I use Centurion OP DLX Deluxe Oil Primed Linen Panels. The quality of the primed linen surface allows for versatility in the movement of paint. No cotton canvases please.
Purchase a variety of some of these sizes... 9x12, 12x16, 14x18, 16x20
(if bringing a larger canvas is a hardship because of travel, simply bring a couple additional smaller ones)
LINEN CANVASES ARE REQUIRED... NO COTTON CANVASES
These are the materials I use. I am aware that it is a substantial investment (IT'S WORTH IT!). Bring an open spirit ready to try new things and come to enjoy being with kindred spirits !!!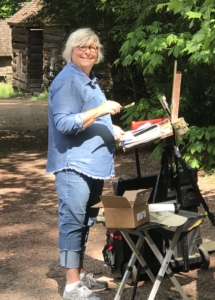 I call myself a "Nostalgic Impressionist" as a way of identifying the subjects and style of painting that interest me most. No matter which part of America I paint, I am really passionate about plein air and love getting lost in the wonderful process of it all!
Kathie resides with her husband and maintains a studio in the mountains of East Tennessee. She travels extensively and spends much of her time oil painting in the great outdoors. Also, teaching workshops and participating in plein air events occupies much of her calendar. Kathie's original works have sold internationally, and she is quite proud of her fine art gallery representation. She has won numerous awards for her paintings. To see more visit https://www.kathieodom.com/about