Key Elements of Plein Air Painting w/ George Van Hook: Choose oil, acrylic, pastel, or watercolor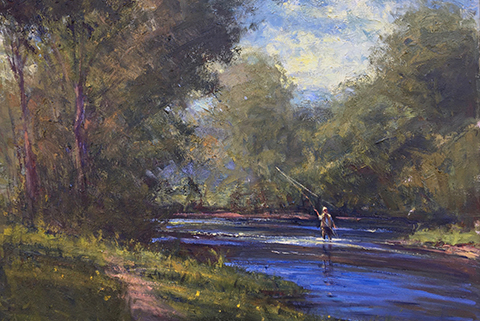 Description:
Join nationally recognized and award winning painter George Van Hook for a weekend plein air workshop in the White Mountains of NH. George stresses alla prima painting using a loose and fast approach to capturing the landscape on the first try. The workshop includes multiple demos and lots of individual attention to work with each participant at their own level. George will discuss composition, laying out the pallet, proper use of materials and all other aspects of plein air painting to teach you to paint quickly and capture the scene. Students will work on at least two paintings each day. All levels welcome but some painting experience is necessary. Participants will meet on location-TBD.  In case of rain we will meet at Jackson Art. There are a limited number of plein air easels for rent. ($35 for the weekend) Students are responsible for their own supplies. Class size is limited to 12 people.
Saturday & Sunday, July 23 & 24, 9am-4pm,  $295, Locations TBD
PLEASE NOTE: REGISTRATION CLOSES JULY 16.
Check out George's website at www.georgevanhookfineartist.com
Cancellation Policy: We ask that you to give us three weeks notice if you need to cancel for a full refund minus a $35 cancellation fee. Cancellations should be made by phone by calling (603) 387-3463. This provides us the opportunity to fill the space. We are sorry, but we cannot give refunds or issue credits for missed classes or no shows.  
Workshop Materials List:
Materials: Bring everything and anything that you are comfortable with using.
HOWEVER, I WOULD LIKE TO SEE THE FOLLOWING SUPPLIES! 
Oil and Watercolor Paints –  professional quality paint:
Ultramarine Blue
Cobalt Blue
Alizarin Crimson
Cadmium Red LIGHT
Cadmium Orange
Viridian
Cadmium Yellow MEDIUM
Cadmium Yellos LIGHT
Titanium White
Brushes: 
A wide selection of bristle flats. # 2,4,6,8,10 should be sufficient. 
For watercolor, a wide selection of sable brushes, both flat and round.
Surfaces:
A large selection of panels in smaller sizes, to allow you to work quickly. 8-10",9-12", 11-14". 
Several of each size, if you can get them. Watercolor: several sheets or blocks of 140lb cold pressed paper, of a good quality. 
Paint medium: Thinner, paper towel, bag for trash, etc. please bring what you normally use, and we'll go from there.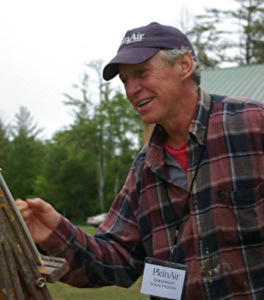 George Van Hook was born and raised in Abington, Pennsylvania, a northern suburb of Philadelphia.  He began painting very early and was able to participate in the vibrant artistic culture of the region.  The family owned a farm in Bucks County, home of the Pennsylvania impressionists, and he became heavily influenced by their fine academic training coupled with a love of the prosaic landscape.  George has spend many summers painting in the mid-coast area of Rockland and Rockport Harbor, and on North Haven Island where his wife's family owned property adjacent to the famous Boston artist Frank Benson. 
Van Hook's love of the European tradition also began early.  He spent two summers during high school filmmaking throughout France and England.  This allowed him to visit many of the great museums, and further increase his commitment to become a professional artist.  Following college, he left for Paris and spent nearly a year copying paintings at the Louvre and traveling through France, Italy and Holland making numerous paintings en plein air.  He returned to California, where he continued painting the landscape the figure outdoors.  
After marriage and the start of a family, George returned to the East Coast, eventually settling in Cambridge, NY. Van Hook thinks of his paintings as primarily a visual response to the selected environment, be it landscape, figure or still life.  "I want the color to be beautiful and the drawing firm and secure", he says.  The paintings are a marriage of external and internal forces – what emerges on the canvas should be a reflection of both the beauty of the world and the artist's most inner response.
Van Hook, a nationally recognized artist has won numerous Plein Air competitions and awards from around the country for his oils and watercolors.