Painting Expressive Still Life in Oil or Acrylic w/ Eric Jacobsen, April 30 & May 1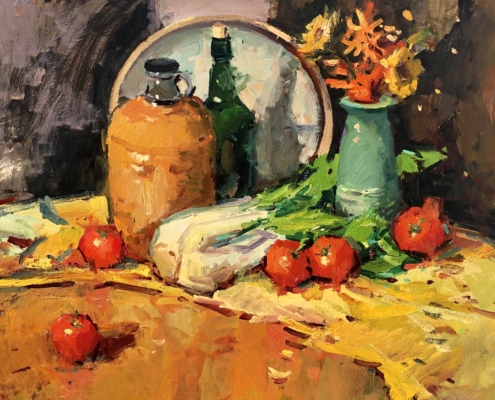 Description:
Loosen up your style and paint expressive still life with award winning painter Eric Jacobsen at Jackson Art Studio. Learn the craft of setting up a still life by focusing on overall design, appropriate lighting, material selection and placement. Further enhance your work by paying attention to composition, values, temperature and paint quality. We will cover composition, color edges and the use of expressive brush strokes to give life and energy to your painting. The atmosphere will be informal and friendly so come and enjoy your time painting still life. Beginner to advanced students are welcome. Bring a few items you would like to add to a still life. Class size will be limited to 10 to allow for individual attention.
Sat & Sun, April 30 & May 1,  10am-4pm, $295
Check out Eric's website at www.jacobsenfineart.com
Cancellation Policy: We ask that you to give us three weeks notice if you need to cancel for a full refund minus a $35 cancellation fee. Cancellations should be made by phone by calling (603) 387-3463. This provides us the opportunity to fill the space. We are sorry, but we cannot give refunds or issue credits for missed classes or no shows.  
Eric Jacobsen's  Supply List
Easel:
Sturdy easel of your choice.
Colors:
Please feel free to bring whatever colors you are comfortable working with. The following is a list of colors I currently use on my palette.
Titanium White Cadmium Yellow Light Cadmium Red Light Pthalo Green
Burnt Sienna Ultramarine Blue Cobalt Turquoise
Cadmium Yellow Lemon Cadmium Orange Alizarin Crimson
Cobalt Violet
Yellow Ochre Paynes Grey
Brushes:
Any high quality brush will do, but I suggest you try Robert Simmons Signet, flat, sizes 2-12.
Palette Knife:
A good palette knife for cleaning palette and painting needs.
Palette:
Bring whatever palette suits you...just make sure you have a large enough mixing space to meet your needs.
Canvas:
Bring a few canvases no smaller than 9x12" and no bigger than 18x24"
Other Items:
Gamasol only for oil painters, (it is oderless) paper towels, plastic grocery bags, 1-2 squeeze clamps for securing various items to your easel.
Eric Jacobsen was born and raised in New England. He received a BA in History from Gordon College in Wenham, MA in 1989 and studied fine art at the Lyme Academy of Fine Arts in Old Lyme, CT from 1991-1995. At the Academy he received training in the Beaux Arts tradition of drawing and painting from life.
Eric's true inspiration is the amazing beauty that he sees in nature. Jacobsen is a "Plein Air" painter. He takes his oils wherever he goes, setting up on site, working until his painting is finished.
"It is most important to me that my paintings convey a certain mood", Eric says. "I want them to be felt by the viewer without his or her having to analyze or think about them. As a general rule, I try to find strong compositions in nature and then paint the scene accurately while leaving out any extraneous details which would only busy up the painting and detract from the strength of the piece as a whole. My painting process consists of finding a painting site and setting up to paint for a couple of hours, or until the light has changed. For larger paintings, I will return on consecutive days at the same time, under similar lighting conditions to finish a piece."