Plein Air Painting: The Autumn Landscape with Tom Hughes, Oct 17 & 18
Description:
In this two day weekend workshop, award winning artist Tom Hughes will guide you through painting the Fall landscape in the White Mountains of NH. Autumn in New England is one of the most beautiful times of year to paint!
In this workshop, students will learn how to paint fall colors effectively, concentrating on value relationships and modulating the color with complementary colors and simultaneous contrast. Through demonstration and individual attention, Tom will guide students to get their colors to look as natural on canvas as they do in the landscape.
On the first day, students will jump right into painting with one on one attention from the instructor.  After lunch, Tom will give a painting demo addressing issues from earlier in the day. On day two, there will be an enjoyable value exercise lesson first thing in the morning.  It will be help students to make sense of what they are seeing by separating out value from color. After lunch, students will again paint in full color for the remainder of the day. Class size is limited to 10 people and students are responsible for bringing  their own supplies. Location TBD. In case of rain, we will paint outside under tents at Jackson Art. Some painting experience is necessary but all levels are welcome.
Saturday & Sunday, Oct. 17 & 18   $345  10am-5pm  (please bring a mask and stay 6' apart during class)
Here is a list of the materials Tom uses: (feel free to bring what you have)

Materials: oil/acrylic
Easel for painting outdoors - examples include:
French easel - I use either one of these or a gloucester easel (particularly good for larger paintings).  As far as I can tell, the best french easels currently generally available are made by Mabef.
Soltek easel - a variation on the french box easel; many of my workshop attendees use these.
Pochade box - very compact and convenient option for outdoor painting.  Off the top of my head, brands include: Open Box M, EasyL, Guerrilla
A web search will display plenty of other outdoor easels.
Palette - most plein air easels come with a palette.  I favor a wooden palette, or, for acrylic, a glass palette.
Rags, paper towels, or kleenex - for wiping brushes, general cleanup.
Something to paint on - stretched canvas, canvas board, primed masonite, primed paper, etc.  Panels (masonite or mdf), either commercially prepared or prepared by the artist are what I prefer for smallish paintings.  Preparations include: acrylic gesso application, an alkyd or oil ground, canvas glued to the panel.  There are other preparations, but these will do fine.  Commercially prepared panels are available at any art materials supplier.
Brushes - a selection of a few hog bristle brushes: chiefly a large bright (size 10 or higher), some rounds, filberts, flats - whatever you prefer.  I use soft brushes as well, chiefly cheap  synthetic watercolor rounds, though they are unnecessary for workshops.
Palette knife - you realize how important this is when you forget to pack it.
Paint thinner - I get what they call "odorless" mineral spirits from the hardware store.  Art materials manufacturers make their own versions - touted to be safer, less toxic, etc - Gamsol and Turpenoid are popular varieties. ( If you get it from the hardware store, make sure it's not labelled "green" or "safer"- one of Kleen-Strip's thinners is labelled thus: it seems to contain some percentage of water and will not work for us.)  I use the thinner for cleanup; it's perfectly good for use in painting as well, though I go the old-fashioned route and use artists' turpentine in a palette cup for that, chiefly because it feels better to me in the paint.  Acrylic painters don't need any thinner but water.
Cans - I clamp (spring clamps) a coffee or soup can on either side of the drawer of my easel; one to hold brushes, the other to hold thinner.  I also use spring clamps to hold my palette steady.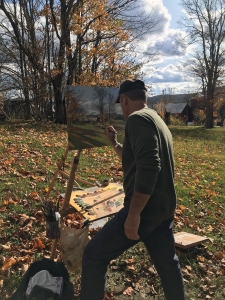 Tom Hughes was born in Massachusetts in 1965. He was a staff artist at the Christian Science Monitor newspaper in Boston in the 1980's, finally leaving to practice fine art, at which he's been occupied for more than 30 years. Once referred to as "a genius" by late, renowned artist and author Charles Movalli, Hughes has had solo exhibitions in galleries in the New England States, North Carolina, Lake Tahoe, San Francisco, and France. He is proficient in several painting media including oil, acrylic, and watercolor, with subject matter comprised of figure painting, portrait, landscape and the odd still life or genre picture. Hughes's work has been featured in American Artist Watercolor magazine, Fine Art Connoisseur, for which he painted the the magazine's publisher B. Eric Rhoads's portrait, and Southwest Art magazine. An example of Hughes's watercolor painting is featured in Watercolor Painting by Tom Hoffmann (Watson Guptill, 2012). In 2019, Tom Hughes won the $15,000 Grand Prize for painting at the Plein Air Convention and Expo, held in San Francisco. In 2018, Tom Hughes was made a signature member of the Plein Air Painters of America. After 21 years in California, Hughes has moved back to his native New England.
Cancellation Policy: We ask that you to give us three weeks notice if you need to cancel for a full refund minus a $25 cancellation fee. Cancellations should be made by phone by calling (603) 387-3463. This provides us the opportunity to fill the space. We are sorry, but we cannot give refunds or issue credits for missed classes or no shows