ZOOM & Paint! American Flag, July 5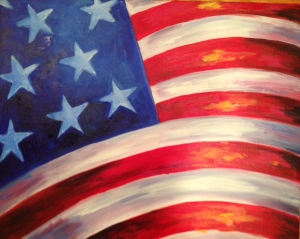 Description:
w/ Professional Painter & Instructor Melanie Barash Levitt
We are  offering VIRTUAL online sip & paint classes, private paint parties, and corporate events via ZOOM! (we send you a link and it is easy to use!)
Please sign up within 24 hrs of class start so we have time to get supplies to you. This painting session will start PROMPTLY at 6:00 pm but we ask that you SIGN IN AT 5:45pm to make sure we can solve any technical issues ahead of time. You will receive a link when you register! You do not need a Zoom account.
NO PAINTING EXPERIENCE NEEDED... I will walk you though the painting step by step - easy, stress free, & affordable!  Just twist open your favorite bottle of wine (21+) or non-alcoholic drink and sip as you paint! You will create a 16"x20" acrylic painting of  "American Flag." 
We have different options regarding purchasing supplies. Toggle pricing when you register and pick your option.
Supplies can be picked up curbside at either Jackson Art Studio & Gallery in Jackson, NH or at the Toy Chest in North Conway, NH between 1-5pm the same day as the class. 
SUPPLY OPTIONS:
STARTER KIT -$62 
Includes virtual link for 1, Three brushes , One 16x20" Canvas, Paint in containers, & Palette mixing paper.
ESSENTIALS KIT -$48 
Includes virtual link for 1, 16x20" Canvas, Paint in containers, & Palette mixing paper.  (NOT INCLUDED: Brushes )

VIRTUAL VIDEO LINK for:
ONE PERSON- $25
No materials included, but access to our virtual paint class.
Virtual link for two people:  $35 (same household)
Virtual link for three people:  $45 (same household)
Virtual link for four people:  $55 (same household)