Landscape Painting for the Beginner w/ Melanie Levitt (3 sessions)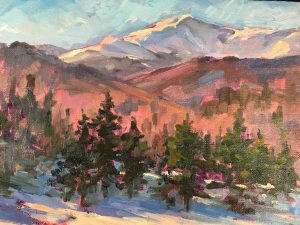 Description:
In this 3 week painting workshop, beginner students will learn how to sketch and paint a winter landscape scene in either oils or acrylic. Winter photos will be provided as a reference or students can bring their own.
The instructor will lead the class with demonstrations, from initial sketch to finished painting. There will be a lot of emphasis on mixing winter colors from a limited palette. Instruction will also be given in composition, sketching, value, brushwork and use of materials. This class is suitable for the beginner student who wants to further their skills and learn to paint. Oils or acrylics are suitable for the class but the instructor will be demonstrating in oils. (Jackson Art can provide you with use of art materials including  for a fee of $75 for the three sessions: includes use of oil paints, brushes, palette, rags, gamasol, canvas, & drawing supplies-please bring a sketchbook) Class size is limited to allow for of individual attention. (Also open to high school students)
Tuesdays,  Jan 21- Feb 4, 6-8:30pm  $165   (3 sessions)
Supplies:
Brushes: I use Flats 2,4,6,8 (bring what you have)
Palette Knife
Gamasol (oderless for oils)
Liquin (optional for oils)
Paper towels or rag
Palette (disposable or wood)
Canvas, bring a couple 8x10" or 9x12"
Jackson Art has table top easels for you to use
Sketchbook
Drawing pencils or charcoal pencils
Oil Paint Colors: (I use Gamblin and use a warm and cool of each color) Bring what you like but don't use student grade.
-Titanium white
-Zinc White (optional)
-Ultramarine blue
-Prussian Blue or phthalo blue
-Cadmium yellow medium
- Cadmium yellow light
-Alizarin Crimson
-Cadmium red
-Cadmium Orange
-Yellow Ochre
-Optional (black to mix greens)
-Optional- Dioxine Purple
Cancellation Policy. We ask that you to give us one week notice if you need to cancel for a full refund minus a $20 cancellation fee. Cancellations should be made by phone by calling (603) 387-3463. This provides us the opportunity to fill the space. We are sorry, but we cannot give refunds or issue credits for 'no shows'.