(virtual) Japanese Woodblock Printing w/ Matt Brown, April 10 &11 via zoom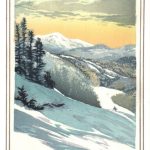 Description:
 Japanese Color Woodblock Printing with Matt Brown
This class will take place over zoom and Matt will mail you all your supplies! This exciting two day workshop is organized to offer a comprehensive introduction to the wonderful range of tools, techniques, and materials involved in the traditional Japanese hanga method.
Hanga is color woodblock printing using water with multiple carved wood blocks, pigments, rice paste and a hand-held baren instead of a press. Everyone engages with aspects of design, carving, and printing.  There is an emphasis on sharing tricks and techniques that may be adapted to other art-making. All tools and materials provided; all experience levels welcome. A $85 materials fee paid to instructor at the class.
Sat. & Sun., April 10 & 11, 2021  9am-5pm  $325 (supply fee will go directly to instructor)
View Matt Browns  website at www.ooloopress.com
"I graduated from college hoping to work with my hands.  By 1985 I was in full gear, establishing my own building contracting business doing new house construction, renovations and additions, post and beam barns, and cabinetry. In 1987 I built the three-story shop where I now make my woodblock prints.
My printmaking career owes much to those years of building. Learning to work with wood, to line things up and judge by eye, to draw up plans and implement them into 3 dimensions: this was my printmaking apprenticeship. My materials are now pigments, carved woodblocks, and paper, my pursuit is with line, shape and color; but it still feels like the same process of visualizing something, analyzing it into parts and then putting hand to tool to make a thing."
Cancellation Policy: We ask that you to give us three weeks notice if you need to cancel for a full refund minus a $25 cancellation fee. Cancellations should be made by phone by calling (603) 387-3463. This provides us the opportunity to fill the space. We are sorry, but we cannot give refunds or issue credits for missed classes or no shows.