ONLINE GALLERY
&

ART SHOW
If you would like to purchase artwork below, please contact Melanie Levitt at melanie@jacksonartnh.com or call 603-387-3463.
We can ship anywhere in the US. New work added frequently.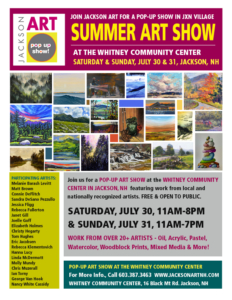 OUR BIG SUMMER ART SHOW & SALE IS COMING UP AT THE WHITNEY COMMUNITY CENTER IN JACKSON, NH.
Free & Open to the public.
Saturday July 30 11am-8pm
Sunday, July 31 11am-7pm
Work from over 20+ local & nationally recognized artists!
Oil, watercolor, pastel, acrylic, & mixed media
Located at the Whitney Community Center
in the heart of Jackson Village, NH
Join us at the Jackson Art gallery for our Summer ART !
Wine & Cheese every Saturday night from 5-8pm in July & Aug.
SUMMER OPEN HRS:
Friday: 10am-6pm
Saturday: 10am-8pm (5-8pm wine/cheese)
Sunday: 10am-6pm
Mon-Thurs. by appt or chance. Call Melanie at 603-387-3463