The Studio Nocturne w/ David Lussier, Nov. 12& 13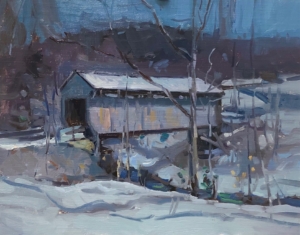 Description:
Learn to paint convincing nocturnes in the studio with oils or acrylics. Explore the nuances and color effects of moonlight along with the various transitional effects of warm and cool light from street lamps, window light and even candle light.
Over the course of many years, I have explored painting nocturnes on site and in the studio. At one point, in order to fully grasp the various lighting and value shifts adherent in night scenes, I explored and painted 30 nocturnes in 30 days. My goal was to paint night scenes from a variety of timelines; from the moment it became dusk until late in the evening and also very early morning. For each painting, I would arrive at a scene, sketch, and take notes and I'd capture a snap-shot photo to help me recall how elements went together. Then I would recreate the feeling and the light of each precise moment, in the studio the next day. It was a real eye opener. I learned a great deal and I want to share it with you.
In this weekend workshop, with the use of demos, discussion and individual instruction at the easel, we will explore these various effects of light. We will also look at some of the work of past painters, who left behind some amazing examples of nocturne painting: Frederick Remington, George Sotter and James Whistler to name a few. I will provide hand outs and reference photos. With one-on-one guidance, you will paint your own nocturne each day. 
Saturday & Sunday, November 12 & 13, 10:00 am- 4:00 PM. Class  size is limited to 12 students
Cancellation Policy: We ask that you to give us four weeks notice if you need to cancel for a full refund minus a $35 cancellation fee. Cancellations should be made by phone by calling (603) 387-3463. This provides us the opportunity to fill the space. We are sorry, but we cannot give refunds or issue credits for missed classes or no shows.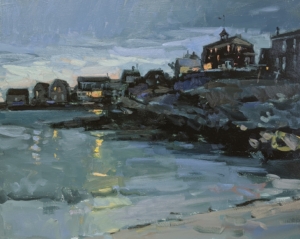 Suggested Supply List
OIL PAINT
We use Rembrandt Oil paint except where noted.
Rembrandt Titanium White in Linseed Oil, 150 ml tube
Winsor & Newton Griffin Alkyd Titanium White, 200 ml tube
Winsor & Newton Liquin Impasto, 200 ml tube
Rembrandt Permanent Madder Deep
Rembrandt Permanent Red Light
Rembrandt Cadmium Yellow Light
Rembrandt Viridian Green
Rembrandt Ultramarine Blue Deep
Optional colors: Rembrandt Cad Red Deep, Rembrandt Venetian Red and Rembrandt Burnt Umber
Brushes
Robert Simmons Signet Series 42 Filberts in even sizes 2, 4, 6 & 8
Robert Simmons Signet Series 40 Brights, Sizes 4 & 6
Robert Simmons Sienna SNSO Script, Size 6
Robert Simmons Titanium Filberts, Sizes 2, 4, 6 & 8
Miscellaneous
Palette Knife-Creative Mark Painters Edge, Style 3T
Palette
Paper Towels-Bounty
Gamsol or other Odorless Mineral Spirits OMS. No pure turpentine either as a brush cleaner or in painting mediums.
Painting Medium - Made with 2 parts Gamsol to 1 part each of Stand Oil & Damar Varnish.
Brush Washer
Medium Cup
Trash Bags
Canvas - Day 1 -  Three to four inexpensive 8x10 panels for exploring several ideas. Centurion linen panels are recommended.
Canvas - Day 2 - Please bring a panel or canvas ranging from 11x14 to 16x20 in size. Alkyd Primed 359 or A600 Linen from Wind River Arts is recommended
Sketch book and materials for drawing thumbnails and writing down ideas.
Studio Easel. (we have a few at the studio so let us know if you need to borrow one.
Students will be provided with a small table.
Suppliers:
Jerrysartarama.com
Utrecht.com
Windriverarts.com
Alla Prima Pochade Boxes
Cheap Joes Art Stuff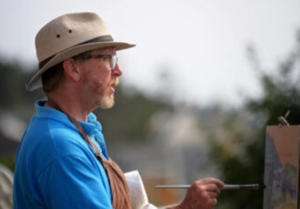 David Lussier is an award winning contemporary impressionist and nationally recognized plein air painter and workshop instructor. He is a painter in the purist sense of the word. In his poetic and intimate oil landscapes he strives to capture the essence and sense of place of his subject matter. His use of bold broad brushwork brings the surfaces to life and begs the viewer to return for a second look. David started his career as a commercially trained illustrator, but he quickly realized that his passion was in the fine arts. He has been painting professionally for more than twenty five years, has garnered more than 75 prizes for his work and is in numerous private and corporate collections throughout the United States. His work has been featured in many art journals and he is a professional member of some of the finest art associations and groups in the country. David is also an official U.S. Open artist for the United States Golf Association. Four of his paintings hang in the permanent collection of the USGA Museum in Far Hills New Jersey.