Beginner Plein Air (Outdoor) Painting: Palette Knife Technique, Sept 12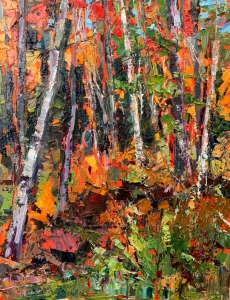 Description:
*We will be limiting the number of people to 8  to allow for social distancing. Please bring a mask that is fitted over your mouth and nose to wear for out meeting time. 
With professional painter, Melanie Barash Levitt
In this one day outdoor painting workshop, students will enjoy the process of setting up an easel outdoors and painting the beautiful White Mtn. landscape "en plein air." The focus of this class will be painting with a palette knife and creating beautiful texture in your painting.  Through demonstration and individual attention in oils, students will learn how to distill the important information from their observation and translate it onto the canvas.
Melanie will address the importance of sketching, how to create depth & light in a painting, composition, color mixing, land other tips for painting outdoors.  All this will be taught in an understandable step by step process which will lead students to improve their ability to see the landscape and create a finished painting in a short time. This class is suitable for the total beginner or the intermediate student who wants to learn how to paint outdoors. Students will complete at least one painting. No need to invest in expensive equipment! We will provided most of the supplies you need to paint for the day.(ie-use of plein air easel, oil paints, brushes, mixing palette, palette knife, mineral spirits, medium, etc.  You will need to bring your own canvases (around 8"x10" is a good size), paper towels and bag for trash. This class is limited to 8 students to allow for individual attention. (there are 6 plein air easels for rent) All students will need to bring a small sketchbook. Location: Jackson Falls. We will meet in the parking lot.
Saturday, Sept 12, 9am-4:30pm, $165 bring your own supplies  $210 supplies included. This class is also open to high school aged students.
*in case of rain, class will take place on Sept 13
Private & semi-private sessions are also available. (please inquire)
Cancellation Policy: We ask that you to give us three weeks notice if you need to cancel for a full refund minus a $25 cancellation fee. Cancellations should be made by phone by calling (603) 387-3463. This provides us the opportunity to fill the space. We are sorry, but we cannot give refunds or issue credits for missed classes or no shows.  
Please Wear or Bring:
-Sturdy sneakers or hiking shoes
-Dress in layers and bring clothes for warm and cool weather
-Raincoat
-Bug Spray
-Sunblock
-Lunch
-Plenty of water
-Sunhat with a big rim or baseball hat
-Sketchbook & pencils
-Canvases (bring two: size 8"x10" is good)
-Mask (for when we are meeting closer together at 6'. We will spread out 10-12' when painting and you can take mask off)
If you opt to bring your own painting supplies:
Bring everything listed above as well as...
-Plein air easel (french easel, pocade box etc)
-Optional: Easel Umbrella
-Oil paints: Limited Palette of a warm & cool of each color (I use Gamblin) Titanium white, Ultramarine Blue, Phatholo Blue,  Cad yellow light, Cad Yellow Medium, Cad Red, Alizeran Crimson,
-Variety of brushes (I use flats/brights size 2,4,6,8)
-Palette knife
- Canvases (bring 2) size 6x8", 8x10" or 9x12"
-Brush washer and oderless turpentine (Gamasol recommended)
-Rags or paper towels
-Palette to mix on
-plastic bag for trash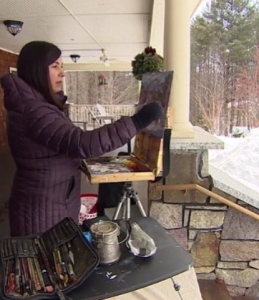 Melanie Barash Levitt graduated in 1990 from the Rhode Island School of Design and received a BFA in Graphic Design. She worked in the graphic design industry for over fifteen years and was part of the creative team for the 1996 Olympics in Atlanta. Melanie spent a year living in Japan and that time had a great influence on her life and her art. She has painted her whole life, but fell in love with plein air (outdoor) painting over fifteen years ago on Monhegan Island off the coast of Maine. She still paints there in the Summer, but mostly enjoys setting up her easel outside and painting the local landscape of the White Mountains of NH where she resides. Being outside in nature and taking in the scene and translating that beauty on canvas is her true passion.
Melanie paints in a loose, impressionistic style with a brush or a palette knife and likes to focus on creating light and color harmony in her paintings. She also teaches oil painting and printmaking at her studio, Jackson Art, and runs art camps for kids in the Summer. Melanie's artwork resides is in the home of many collectors through the US, Canada and Europe. She exhibits her work in galleries and shows throughout NH and ME and has been featured on Boston Chronicle, WCBV TV (ABC) and been published in Boston Voyager Magazine.