Melanie Barash Levitt, owner of Jackson Art, is a graduate of Rhode Island School of Design with a BFA in Graphic Design. Melanie has been a graphic designer for the last 20 years and worked on the creative team for the 1996 Olympics in Atlanta. In 1994, she traveled to Japan to teach art at the St. Joseph Int'l School. Her travels throughout Asia has had a great influence on her work and her life. Upon moving to Jackson and starting a family, Melanie wwweloped Jackson Art Exploration as a way to expose young children to art. Since then, she has taught a variety of classes for kids and adults at her studio. Melanie's interest in printmaking began when she took a class in watercolor monotype at Maine College of Art. She instantly fell in love with the process and has been doing it ever since. Her Asian influence and love of nature are portrayed in her work. She also paints with oils on canvas, plein air style, setting up her easel outside and taking in the beautiful landscape of Mt Washington Valley. Melanie currently resides in Jackson, NH with her husband Daren, and two daughters, Logan and Eden.
---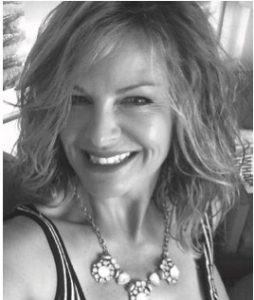 Joelle Rober Goff is a resident of Mt Washington Valley, NH. A self-taught artist and an enthusiastic member of the valleys thriving artist community. Joelle's paintings are collected throughout the US and abroad. Her work has also been licensed commercially for use on tile murals, wall clocks, and canvas prints. Joelle teaches acrylic flower painting workshops at The Jackson Art Gallery and Studio.
---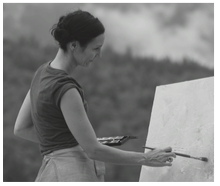 Rebecca Klementovich lived in NYC for 20 yrs before moving to the White Mountains of NH. In 1992, she earned a Bachelor in Fine Arts at the Fashion Institute of Technology with additional studies at Cooper Union and the Arts
Student League in NYC. Her background as a fashion textile designer influenced her serious color courage! She is a mom, reiki master, and yoga instructor. She has shown her work throughout NY, ME & NH. My abstract landscapes have the bold exploration of color that depicts the New England landscape similar to the Fauvism painters. My unique gift of seeing colors and energy that float around the mountains comes from my reiki training. Many people don't see these colors. I hope to show the subtle colors that move around the landscape here in the mountains.
All my work explores the unseen 99% of matter. Some of the landscapes are found through astral projection, some work is painting the scientific, and some work ventures into poetry.
---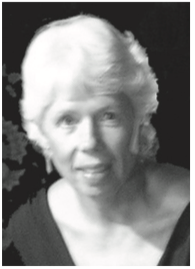 Janet Gill.  For the past ten years, pastel has been my medium of choice. I believe it is the rich, immediate color, as well as the energy that can be achieved by the pastel strokes, that has made pastel my
favorite. When choosing subject matter and composition, color is probably foremost in my mind. It is what draws me to a subject.  My color choices are based on what is in front of me but as the painting wwwelops my choices are more intuitive and perhaps exaggerated as I try to express
the feeling of what I am painting and as I respond to the painting itself. Every painting is an adventure – sometimes effortless and fun, sometimes a mighty struggle.
---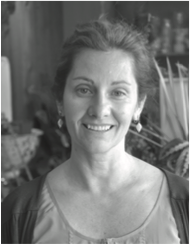 Lori Stearns.  Each of my pieces starts from a basic desire to create. I have always had that drive. Call it the Muse, or an irresistible urge, I am from within and inspired from without.  I love the worn look of a well-used stair rail, or a tree root on a favorite hiking trail: an old cabinet door that has been opened and lovingly polished for many generations. These surfaces are magical to me and inspire my jewelry and mosaics.  Even when I use new ceramic and glass tile, I am ever conscious of the mosaics, thousands of years old, still enjoyed by admirers in European countries and Africa.