Monhegan Retreat : Painting/Sketching, Yoga, Hiking & Museum Tour, Sept 13-Sept 15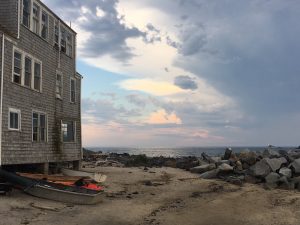 Description:
Join Melanie Levitt, owner of Jackson Art, for a unique experience combining outdoor painting/sketching, (beginner & intermediate levels) yoga, light hiking and touring the Monhegan museum and galleries.  This retreat will be reserved for just six people taking place in one of the most beautiful places in the world!  We will spend a rustic weekend at the Trailing Yew. (hearty breakfast included) Cost includes painting instruction, two nights accommodation with breakfast at the Trailing Yew, private group yoga class, admission to the Monhegan Museum, wine/cheese welcome and light hiking and tour around the island.  Melanie will be working in oils but you can work in medium of your choice. Don't want to paint? Bring a sketchbook and draw. Participants are expected to cover costs of their own lunch and dinner and transportation to and from the island. More details to follow upon registering. (add painting supplies/easel for $65 or bring your own) Cost: $545 per/person Friday, 9/13-Sunday 9/15 (Included: two nights accommodations with breakfast, art workshop, (all levels)  yoga, entry to Monhegan museum, tour around island and wine and cheese welcome)
Melanie Barash Levitt has been exploring and painting on Monegan Island for the last fifteen years. Monhegan is a small, rocky island ten miles from the nearest mainland and scarcely a square mile in area. It is accessible only by boat and there are no cars or paved roads on the Island. Artists have been drawn to the rugged beauty of Monhegan for over 150 years.  The peaceful nature of the island combined with the picturesque landscape make Monhegan an ideal location to immerse yourself in  art and relaxation.  A packing list will be sent to registered students. (in case of inclement weather, we will paint from the Trailing Yew)
Weekend Schedule:
Friday, Sept. 13.-Arrive in the afternoon to Monhegan Island and  join Melanie for a wine and cheese welcome  at the Trailing Yew & walk around the village. We will have a Lobster dinner at Fish Beach (additional food choices for those who don't eat lobster) and there will be a sunset painting demo.
Saturday, Sept 14, -We will enjoy a hearty breakfast at the Trailing Yew followed by a morning painting session and private yoga class. In the afternoon, we will take a walk to Lobster Cove and enjoy a snack and optional beer tasting at Monhegan Brewing.  Evening painting session optional.
Sunday, Sept 15-  We will enjoy another hearty breakfast at the Trailing Yew following by a short hike around the island. Bring your sketchbook! We will visit the Monhegan Museum and Lupine Art Gallery and then have a painting session in town. Participants can take an afternoon ferry or spend and extra night on the island. (If you would like spend an extra night, I can arrange this for you with the Trailing Yew)
Cancellation Policy. We ask that you to give us three weeks notice if you need to cancel. You will receive a full refund minus $50 cancellation fee.  Cancellations should be made by phone by calling (603) 387-3463. This provides us the opportunity to fill the space.