Teen Summer Studio Arts, July 29-Aug 1, (4 nights)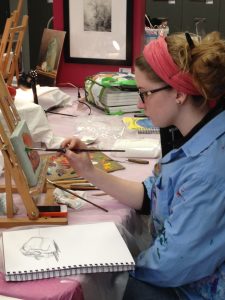 Description:
With Melanie Levitt
This evening program for teens will run for four consecutive nights and will expose students to a variety of art forms including drawing, Japanese brushstroke painting, mixed media and mosaics.  Day one will focus on drawing. Each student will work at their own level on a still life composition. Line, shadow, form and composition will be covered.  Day two will focus on Japanese brush stroke painting. Students will learn how to do basic sumi-e brushstrokes working with black ink on rice paper. They will complete a finished bamboo painting along learn about sumi-e materials. Day three we will focus on mixed media. Students will create a unique piece of art using recycled materials. The last day will focus on mosaics. Students will create their own mosaic project using broken tile, glass beads, stones, shells and other materials. All the supplies are included, but students should bring a notebook or sketchbook. No prior art experience is required and all levels are welcome. Class will be limited to 8 students to allow for individual attention. Mon-Thurs, July 29- Aug 1, Ages 13-19 yrs, $285 includes all supplies
Cancellation Policy. We require that you to give us three weeks notice if you need to cancel. You will receive a full refund minus $25 cancellation fee.  Cancellations should be made by phone by calling (603) 387-3463. This provides us the opportunity to fill the space. We are sorry, but we cannot give refunds or issue credits for 'no shows.'  If you miss a class, we will send you home with supplies to make up the project.