Fall Plein Air Workshop: Palette Knife Technique with Cynthia Rosen, Sept 21 & 22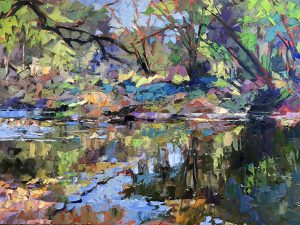 Description:
Fall Plein Air Workshop: Palette Knife Technique with award winning artist, Cynthia Rosen
This two day Fall plein air workshop will take place in the beauty of the White Mountains of NHand will be led by award winning artist, Cynthia Rosen.The richness of the landscape will match that of our color and image exploration.Each day will begin with a painting demo focusing on intent,composition, use of color and technique. Cynthia will demonstrate her unique palette knife technique using a limited color palette. The class will be kept small to allow for individual attention. We will meet at Jackson Art and then travel to painting locations in Jackson, NH. Participants are responsible for bringing their own painting supplies. Oils or acrylics are suitable for this workshop but the instructor will be demonstrating in oils. Deadline for registration is Sept 14.
Sat. & Sun, Sept 21 & 22, 9am-4pm $295
Cynthia Rosen is primarily a palette knife painter who has been recognized for helping to broaden the horizonsof the plein air community.While attending the Boston Museum School, Cynthia Rosen transitioned from distinctively realistic drawings to non-objective mixed media works which took her to galleries in NYC and Philadephia. She then took a hiatus to raise her family in VT, returning to art with a love of nature and an interest in painting images that stretched beyond the traditional.
Rosen found her unique visual voice while working amidst the sights and sounds of the outdoors. She has been juried into select shows and plein air events winning numerous awards, invited to invitationals as well as to create an instructional video which was recently released through Streamline Art Videos. Rosen will be demonstrating as a faculty member at the Plein Air Convention to be held in San Francisco in April, 2019.
In 2018, Cynthia was featured in Plein Air Magazine, Southwest Art magazine, The Outdoor Painter (online) and American Art Collector, andthe Artist's Road.
"Our personal visual voices are our means of connecting and interpreting our ever-changing world. I pursue mine through improvisation while creatingorder.The size of my works vary, but my fascination with color and movement remains a constant."
Materials List:
An outdoor easel.  The inexpensive plastic or aluminum easels work fine.  There is the french easel as well as a variety of others.  Feel free to contact me for more information.  Some of the easels include a built in palette such as the Soltek.  If they don't you will need a hand palette or a pochade box, such as a Coulter Box or Joshua Been's Daytripper to attach to your easel or tripod.  I also carry and will bring a back up set-up as well.
Recommended basic colors, acrylic or oil  (Please adjust for other medium). This colors list reflects a warm and cool of each blue, red, and yellow and will produce your greens, browns and blacks.  My preferred brand is Gamblin.
Titanium white
Zinc white
Prussian blue
Cobalt blue
Purple dioxazine
Alizarin permanent (crimson in acrylic)
Cadmium red medium
Cadmium Orange
Cadmium Yellow
Hansa Yellow or Cad yellow light
special note: I personally mix the purple dioxizine with the cobalt to create my ultramarine but feel free to include ultramarine blue.  You can also bring Titanium Zinc White instead of the two different whites.  I prefer once again, to mix my own combination or use them separately.  I will explain why in the class.
optional extras:, thalo blue or cobalt teal, Gamblin's portland gray, transparent orange is also lovely.  Add whatever else you love.
Medium for oils: My personal preference is medium such as Galkyd by Gamblin (will help your paints dry faster) which I mix with Gamsol (Odorless Mineral Spirits).  Or you can use Liquin.
medium for acrylics: bring gel medium for wonderful glazing and thinning and retarder to slow down the drying process.
Brushes: Bring a few soft brushes (#2 or 3 round,  #9 flat,   #12 flat or round for oils or a fan brush for acrylics (for glazing).   I will bring extras.
Palette knifes:  2 offset Loew Cornell #12 03119-1214 from Dick Blick and others you want.  I will bring a few extra.   BUT you do want offset knives so your fingers do not go into the paint.  Off set knives angle down about 1/2" between the handle and the painting blade.  They may be referred to as 'painting knives'.
Bring containers for mixing oil mediums and for washing brushes.  I also use rags instead of paper towels, your choice.
Panels vs canvas:  Please bring 4 surfaces (2 per day.  You may only use 2 but it is always better to have extra).  Boards versus stretched canvas?  Boards are easier to transport over stretched canvas.  If using a brush any canvas covered board works, if wanting to paint with a knife, I prefer the pre-gessoed panels or Gessobord over canvas but that is because of how the knife works with it.  Bill Bonham sells a lesser expensive mdf board for painting.  You can also make your own panels, bring canvasses, purchase some inexpensive canvas panels from MIchaels or Blick or even paint on cardboard.
Bring board sizes you are comfortable with.  My personal preference is large.  I suggest for knife work at least one larger size (16 x 20 with the small being 12x16 if you can transport them). Any size will work if painting with brushes.
For transporting wet paintings you may want to purchase a couple of sets of wet panel carriers with bands that correspond to the panels you purchase if using panels.  https://www.panelpak.com  Each panel pac holds 2 panels of the same size.  If you prefer to stick to one size panels, check out Raymar panel carriers.  They are a bit bulkier but protect at least 4 panels that are sized to fit them and are great in all kinds of weather.  If you use canvasses, bring appropriate transport containers as well.  Pizza boxes or a box that your canvas will fit in works.
Cancellation Policy: We ask that you to give us 10 days notice if you need to cancel for a full refund minus a $25 cancellation fee. Cancellations should be made by phone by calling (603) 387-3463. This provides us the opportunity to fill the space. We are sorry, but we cannot give refunds or issue credits for missed classes or no shows.