Capturing Autumn Color: Traditional Landscape Painting w/ Lauren Sansaricq, Oct 13 & 14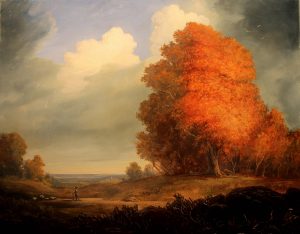 Description:
With Lauren Sansaricq
Regardless of your level of experience, the goal of this workshop will be to provide you with a thorough introduction to traditional 19th Century landscape painting technique using a layered approach. In this class we will focus on how to capture the beauty of autumn color, in a convincing realist manner. Students will discover a deeper understanding of how the old masters approached painting this magical time of year. And what incredibly vibrant colors can come from transparent glazed color! We will also discover how they composed the complexity of nature, and how they used a layered approach to greater capture subtleties of space, and form in the landscape. All levels gladly welcomed
Sat. & Sun., Oct 13 & 14,  9am-4pm,  $285 (deadline for sign up is Oct 5)
Lauren Sansaricq (b. 1990) grew up in Columbia County, New York, where from an early age she was exposed to both the beauties of the Hudson Valley and, under the teaching of Thomas Locker, a traditional approach to landscape painting. Taking Mr. Locker's advice Miss Sansaricq received academic training in drawing and painting at the Grand Central Academy of Art in NYC.  In 2011, at just 21 years old, she was taken under the representation of Hawthorne Fine Art, a prestigious New York gallery specializing in 19th century Hudson River School Painting. Miss Sansaricq was also honored with a solo show in New York at Hawthorne Fine Art that same year. Sansaricq's work has been exhibited in Manhattan at historic venues like the Salmagundi Club, the National Arts Club and the Union League Club. In 2012 she had a solo show at Saint Anselm College, and had her work featured at the Boston International Fine Arts Show. One of Sansaricq's paintings was also featured in the New York Times, surrounding the show she was apart of, "The Great Hudson River Exhibition". Today Sansaricq's artwork is in collections throughout the country, and is hung beside some of the best American painters of the past. She also teaches every summer on the Hudson River Fellowship and occasionally at Grand Central Atelier in NYC. Sansaricq now resides in the Catskill Mountains following in the footsteps of the great Hudson River School painters of the past.
Cancellation Policy: We ask that you to give us three weeks notice if you need to cancel for a full refund minus a $25 cancellation fee. Cancellations should be made by phone by calling (603) 387-3463. This provides us the opportunity to fill the space. We are sorry, but we cannot give refunds or issue credits for missed classes or no shows.