Watercolor Monotype with Japanese Paper, Feb 10 & 11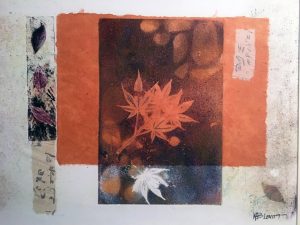 Description:
With Melanie Barash Levitt   Non-toxic watercolor monoprinting is a dynamic art form combining the colorful palette and radiant flow of watercolors with an unusual diversity of beautiful and compelling techniques unique to this process. In this class we will use the chin-collé process incorporating Japanese papers with the printmaking process.  Chine-collé is a special technique in printmaking in which the image is transferred to a surface that is bonded to a heavier support in the printing process.This allows you to print on the delicate surface of Japanese papers which pulls finer detail off the plate or also allows you to provide a colored background color behind the image.   Students will also learn proper use of an etching press, the correct numbering and signing of your prints, plus different approaches to the medium with emphasis on double plate printing of foliage with chin-collé. Watercolor washes on the plate's impermeable surface allows for a floating of color in a way no other medium can. You will also be taught how to do watercolor monotypes at home without a press. This exciting process loosens artistic tightness, inspires confidence and expands creativity. You need not have previous experience in either watercolors or printmaking to achieve beautiful results. A materials fee is included in the class cost  and includes  a set of watercolors specific to this process, 8 sheets of printmaking paper, two printing plates, use of class materials and Japanese papers. (limit of 6 people) Deadline for sign up, Feb 3.
Saturday & Sunday , Feb 10-11, 10am-4pm  $310 includes all supplies
Cancellation Policy. We ask that you to give us 10 days notice if you need to cancel. There will be a processing fee of $10. Cancellations should be made by phone by calling (603) 387-3463. This provides us the opportunity to fill the space. We are sorry, but we cannot give refunds or issue credits for 'no shows'.