Landscape Painting for the Beginner Via Zoom: Brush & Palette knife w/ Melanie Levitt, Jan 13-27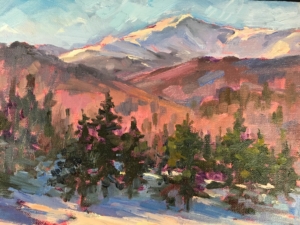 Description:
In this three session painting workshop for the beginner painter, we will investigate the winter scenes of Canadian painter Tom Thompson and how he captured the colors of winter and eye catching compositions. This class will take place over Zoom and be recorded should you miss a  class.
In the first session, we will start by creating simple notan sketches figuring out our own unique compositions. We will then move to value studies taking color out of the equation and focusing on darks to light. There will be instruction in mixing colors to create a winter palette and also demonstration in how to apply paint with both the brush and the palette knife with an impressionistic approach.  Students can work in oils or acrylics and we will use a very limited palette of color and  supplies that can be purchased at Michaels or online. Class size is limited to  allow for of individual attention. (This class is also open to high school students)
Wednesdays,  Jan 13-27, 6-8:30pm  $165   (3 sessions-classes will be recorded) 
SUPPLY LIST: (all supplies can be purchased at Michaels)
-Brushes: I use mostly Brights or flats, both bristle and softer synthetics Sizes  2,4,6,8, 10 (use what you have)
-Palette Knife with bent neck and pointed tip
-Gamasol (oderless mineral spirits for oils only)
-Brush washer or cup
-Liquin (optional medium for oils)
-Retarder for Acrylics only (to slow down drying time)
-Paper towels or rags
-Palette (disposable paper or wood- you can also use waxed paper)
-Canvases, a couple either 8x10" or 9x12"
-Easel or work flat on a table
-Sketchbook (or some sheets of paper to sketch)
-Soft drawing pencils or charcoal pencils
Oil Paint Colors: (I use Gamblin-works well with palette knife painting  and brush. Can purchase at Michaels)
If using acrylics, I recommend heavy body acrylic paints, not cheap acrylics. 
Limited Palette of Primary Colors for both oil or acrylic:
(you can mix a complete range with these colors)
-Titanium white
-Ultramarine blue
-Cadmium yellow Light or Lemon Yellow
-Cadmium Red  or Cadmium Red Light
Additional Optional Colors (you can use a warm and cool of each color and add these if you want to above list)
-Prussian Blue or Phalo Blue
- Alizarin Crimson or Quinacridone Red
-Cadmium Orange
-Cadmium Yellow Medium
-Phthalo Green
Cancellation Policy. We ask that you to give us two week notice if you need to cancel for a full refund minus a $15 cancellation fee. Cancellations should be made by phone by calling (603) 387-3463. This provides us the opportunity to fill the space. We are sorry, but we cannot give refunds or issue credits for 'no shows'. Class will be recorded.