(OUTDOORS) Mixed Media Collage w/ Rebecca Klementovich (for adults & high school students)
Description:
This class will take place outdoors under our art tent to allow for social distancing. A mask will be required for all participants.
In this fun and creative collage class, students will explore color and texture through many different mediums! We will provide a selection of solid and printed papers for you to experiment with in addition to using your own markers, crayons, pastels, charcoal, colored pencils and acrylic paint. Predominantly we will be painting an abstract acrylic painting as a base and from there we will add papers and other mediums. You will learn how to use harmonious colors to create visually exciting contemporary mixed media art. Students will create a series of up to four, 16x20" collaged pieces. Please bring any inspirational sketches,  photographs or images printed on letter size paper that you would like to use. Students will be required to bring the bulk of their own supplies. (see list below) We will provide modge podge. This class is suitable for adults and high school students. No experience is required and all levels are welcome.
Saturday, Aug 8, 10am-4pm, $185 includes use of printed and solid color papers & modge podge.(students are required to bring other supplies)
*Raindate, Sunday, Aug 9
Supply List:
(4)  canvases,  16"x20" (or around that size)
Acrylic paints in various colors
Small brushes in a variety of sizes
Scissors
Palette knife (to mix paint)
Mixing Palette or paper plate
roll of paper towel
A cheap brush to apply modge podge
A selection of colored markers, oil pastels, crayons or colored pencils
Pencils or Charcoal
Any inspriation photos, sketches or letter size graphic print outs.
Optional: printed or solid color papers (we will also provide)
Bug spray (we will have thermasol lanterns to keep the bugs away)
Jacket in case it gets cool outside
Lunch and drink (or one can be picked up nearby)
Plastic bags for trash
We will provide each student with a small table. Please bring a drop cloth or plastic sheet to place your work on.
Cancellation Policy: We ask that you to give us three weeks notice if you need to cancel for a full refund minus a $25 cancellation fee. Cancellations should be made by phone by calling (603) 387-3463. This provides us the opportunity to fill the space. We are sorry, but we cannot give refunds or issue credits for missed classes or no shows.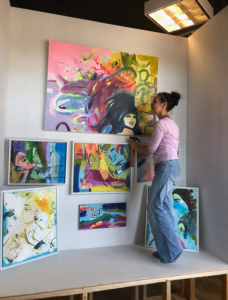 Rebecca Klementovich has been developing a new style and color palette since 2010 after she moved to the mountains of New Hampshire from NYC. Here work is in local museums, galleries, and collections. She has a serious commitment to the Arts. is Co founder of the Femme Fatales of the North along with Kristen Pobatschnig -Commissioned Ten foot Mural in Settler's Green, NH -Curator for the Rochester Museum of Fine Art, NH -Teaching modern art in galleries and public school around New Hampshire -Voted women artist to watch 2017 by, New England Magazine -TV appearance NH Chronicle March 2017, They Call themselves the Femme Fatales - One of most written about female artists in the Valley -Fantastic advocate for grassroots support of the arts. -Work in Museums and Gallery -22 Years as a Textile designer in fashion in NYC -Fine Arts degree specializing in illustration from FIT -Studied at the Cooper Union, and Students Art League, NYC interiors+bowl.jpg About This Painting is of the Bowl, a section of the famous Mount Washington. It is a study of the many colors of a spring snow. This painting has been bought but can be painted again upon request. Rebecca is an upcoming art as written, in the New England Magazine, Women to watch for 2017 April Issue.