Color Mixing with a Chromatic Palette w/David Lussier
Date: Jan 29 & 30, 2022
Time: 10am-4pm
Price: $295
Artist: David Lussier
Join us for a fun weekend workshop in the White Mountains at Jackson Art. We will explore how to mix our chromatic color palette and how to mix color effectively from it. It's easy to make a dark color, like Ultra Marine Blue lighter by adding white, but how do you darken a light color like yellow? How do we warm up a color and how do we cool a color? How do I keep my color from getting chalky? …and much much more. There will be follow along color mixing, along with plenty of discussion and time for all your pressing questions about color mixing. We promise that this will be a most informative workshop and you will walk away with a newfound confidence with mixing color. Class size limited to 10. Students are responsible to bring their own equipment. Let us know if you if you need a studio easel.
Saturday & Sunday, Jan 29 & 30, 10-4, $295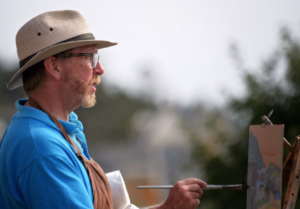 David Lussier is an award winning contemporary impressionist and nationally recognized plein air painter and workshop instructor. He is a painter in the purist sense of the word. In his poetic and intimate oil landscapes he strives to capture the essence and sense of place of his subject matter. His use of bold broad brushwork brings the surfaces to life and begs the viewer to return for a second look. David started his career as a commercially trained illustrator, but he quickly realized that his passion was in the fine arts. He has been painting professionally for more than twenty five years, has garnered more than 75 prizes for his work and is in numerous private and corporate collections throughout the United States. His work has been featured in many art journals and he is a professional member of some of the finest art associations and groups in the country. David is also an official U.S. Open artist for the United States Golf Association. Four of his paintings hang in the permanent collection of the USGA Museum in Far Hills New Jersey.
Suggested Supply List
OIL PAINT
We use Rembrandt Oil paint except where noted.
Rembrandt Titanium White in Linseed Oil, 150 ml tube
Winsor & Newton Griffin Alkyd Titanium White, 200 ml tube
Winsor & Newton Liquin Impasto, 200 ml tube
Rembrandt Permanent Madder Deep
Rembrandt Permanent Red Light
Rembrandt Cadmium Yellow Light
Rembrandt Viridian Green
Rembrandt Ultramarine Blue Deep
Optional colors: Rembrandt Cad Red Deep, Rembrandt Venetian Red and Rembrandt Burnt Umber
Brushes
Robert Simmons Signet Series 42 Filberts in even sizes 2, 4, 6 & 8
Robert Simmons Signet Series 40 Brights, Sizes 4 & 6
Robert Simmons Sienna SNSO Script, Size 6
Robert Simmons Titanium Filberts, Sizes 2, 4, 6 & 8
Miscellaneous
Palette Knife-Creative Mark Painters Edge, Style 3T
Palette
Paper Towels-Bounty
Gamsol or other Odorless Mineral Spirits OMS. No pure turpentine either as a brush cleaner or in painting mediums.
Painting Medium – Made with 2 parts Gamsol to 1 part each of Stand Oil & Damar Varnish.
Brush Washer
Medium Cup
Trash Bags
Canvas – Day 1 – Three to four inexpensive 8×10 panels for exploring several ideas. Centurion linen panels are recommended.
Canvas – Day 2 – Please bring a panel or canvas ranging from 11×14 to 16×20 in size. Alkyd Primed 359 or A600 Linen from Wind River Arts is recommended
Sketch book and materials for drawing thumbnails and writing down ideas.
Outdoor Easel
Suppliers:
Jerrysartarama.com
Utrecht.com
Windriverarts.com
Alla Prima Pochade Boxes
Cheap Joes Art Stuff
Cancellation Policy: We ask that you to give us three weeks notice if you need to cancel for a full refund minus a $35 cancellation fee. Cancellations should be made by phone by calling (603) 387-3463. This provides us the opportunity to fill the space. We are sorry, but we cannot give refunds or issue credits for missed classes or no shows.