Capturing the Moment in Light & Color w/ Ann Larsen
Date: August 26 & 27, 2023
Time: 10am-5pm
Age: Adults & high school aged students
Price: 325.00
Artist: Ann Larsen
Website: https://www.annlarsen.com/
Summer in the White Mountains of New Hampshire is a spectacular place to paint! This workshop is designed to help students interpret what they see in the landscape and then put that down on canvas. Emphasis will be on capturing light, color and the emotional moment. Students will be guided through deciding on a subject, color mixing, value, and the importance of edges in their paintings. We will focus on a step by step approach to building a paintings by starting with large mass simplification, color choices and the importance of what to leave in and what to leave out to make a strong painting. Historical and modern references will be discussed. Each day will start with discussion and a demonstration of the days lesson. Each student will be given one on one attention to help them understand and work towards their painting goals. The workshop is for students with some painting experience.  Beginner to advanced.  Oil is the preferred but other mediums are acceptable.
Saturday & Sunday, August 26 & 27, 10:00 am- 5:00 PM, $325
Cancellation Policy: We ask that you to give us four weeks notice if you need to cancel for a full refund minus a $45 cancellation fee. Cancellations should be made by phone by calling (603) 387-3463. This provides us the opportunity to fill the space. We are sorry, but we cannot give refunds or issue credits for missed classes or no shows.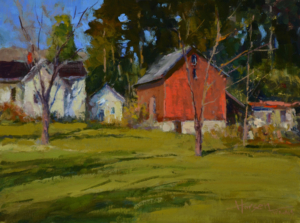 Suggested Supply List
Palette: At a minimum have a basic palette of a warm and a cool in each primary. Plus a large tube of white.
PLUS a tube of ivory black
-titanium white or titanium and zinc mixture 
-ultramarine blue, compose blue or cerulean blue hue
-alizarin crimson permanent or quinacridone red
-cadmium red light or permanent red medium (made by Rembrandt Extra Fine)
– cadmium yellow medium
-cadmium yellow pale or cadmium lemon
-translucent red oxide or burnt sienna
Pochade Box or outdoor Plein Air Easel ( SolTek, Open Box, or Strata to name a few) There are several good ones on the market, but I would stay away from the wooden French easel if possible.  They are cumbersome and hard to set up.   
Brushes
Good bristle brushes in sizes Flats  #4 to #10
Solvent & Medium – oil painters
Orderless mineral spirits – Gamsol or Turpenoid ONLY
Palette for mixing paint – SURFACE SIZE IS VERY IMPORTANT!!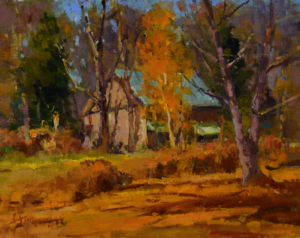 Please have a palette large enough to mix color – a minimum of 11×14 surface.
Canvas
Canvas panels in sizes 6×8 to 12×16 for field studies.  Have at least 3 per day or more.
Sketch Book and  soft pencils (ex.  4B, 5B,6B etc.) small handheld sketchbook for thumbnail studies.  I use size 5.5 x 8.5.
Other
–  Palette knife – large enough to mix paint with – 2-1/2″ x 1″ min. length
– Large lidded solvent container that seals.  The ones with strainers in the bottom are a must have.  Otherwise you are just dipping into the muck in the bottom and not really cleaning you brushes.  Fill container 2/3 full with solvent.
– Roll of Paper towels or rags
– Plastic or paper grocery bags for paper towel disposal or any reusable disposal container
Suppliers:
Jerrysartarama.com
Utrecht.com
Windriverarts.com
Alla Prima Pochade Boxes
Cheap Joes Art Stuff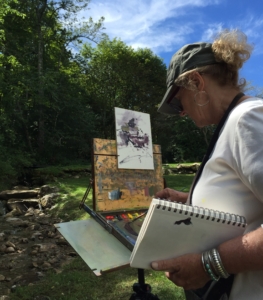 Ann Larsen was born in Louisville, Kentucky and began traveling and living throughout the United States at the age of 18.   Having studied at Indiana University, the Rhode Island School of Design and finally receiving a Bachelor of Art degree while living in Oklahoma, her family relocated to Denver where for the next 5 years she painted across the west from Colorado to California.  Her love of landscape continued for the next 20 years while living in the Adirondack Mountains of Upstate New York.   Ann also spends time painting on the coast of Maine and Massachusetts.    Ann is a  Signature Member of Oil Painters of American, Signature Member of American Impressionist Society and an Out of State Artist Member of the California Art Club.  Larsen has been in over 100 exhibitions and museum shows in which her awards include two Awards of Excellence from OPA Eastern Regional Exhibitions; Silver Medal as a Master Signature, American Women Artists National Exhibition and Best Landscape, American Women Artists; Dickenson Signature Member Award, American Impressionist Society National Exhibition 2021.
Larsen's approach to the landscape is to simplify as much as possible to make the boldest statement.  "I want my viewers to know how I felt about a place when I painted it by suggesting a subject with thick and vibrant brushstrokes."
To see more of Ann's work visit https://www.annlarsen.com/