Beginner Landscape Painting: Painting Snow! (outside & inside the studio) w/Melanie Barash Levitt
Date: Feb 12-13, 2022
Time: 10am-4pm
Price: $295
Artist: Melanie Barash Levitt
With award winning painter and owner of Jackson Art, Melanie Barash Levitt
In this weekend winter painting workshop, students will enjoy the process of setting up an easel outdoors on day one and setting up inside the studio on day two. By dressing properly and wearing hand and foot warmers, painting in the winter can be enjoyable and you can stay warm! 
For the first day, students will set up outside and focus on sketching and creating small painted studies. Melanie will demo in both brush and palette knife. The focus will be on working on composition and blocking in big shapes.  On day two students will use their painted sketches, photos, and memory of the scene to create a painting in the studio.
Through demonstration and individual attention, students will learn how to distill the important information from their observation and translate it onto the canvas. Melanie will address the importance of sketching, composition, color mixing, and other tips for landscape painting both outside and inside the studio.  This will be taught in an understandable step by step process which will lead students to improve their ability to see the landscape and create a finished painting in a short time.
Students are responsible for their own painting supplies but we have a limited number of French Easels to rent for $25 for the weekend. This class is suitable for the total beginner or the intermediate student.
Saturday & Sunday, Feb 12 & 13  10am-4pm, $295  (rent a French plein air easel for $25)  This class is also open to high school students.
In case of inclement weather, we will take photos outside and paint in the studio both days.
Private & semi-private sessions are also available. (please inquire)
Cancellation Policy: We ask that you to give us three weeks notice if you need to cancel for a full refund minus a $35 cancellation fee. Cancellations should be made by phone by calling (603) 387-3463. This provides us the opportunity to fill the space. We are sorry, but we cannot give refunds or issue credits for missed classes or no shows.  
Please Dress in layers for DAY 1 outdoors: (day 2 in the studio)
-Warm Winter Boots with wool socks
-Hand and Foot Warmers are a must
-Long underwear as base layer
-Warm Winter Ski Coat with hood
-Ski Pants with layers underneath for warmth
-Tight fitting warm gloves (so you can hold a palette knife)
-A pair of wool socks cut at top to wear over your tight fitting gloves  for added warmth
-Fleece Face mask or neck warmer
-A bathmat or piece of cardboard to stand on instead of snow
-Your car to take breaks to warm up
-Sunblock
-A thermos with warm drink
-Plenty of water
-Lunch and snacks or food can be ordered nearby or brought with you
ART SUPPLIES (Michaels has most of these supplies)
-Sketchbook & soft pencils
-Canvas boards – For day one bring one large 16×20″ canvas and  tape up in four sections (approx 6×8″ each) and a border around the whole canvas with masking tape or bring some smaller 4×6″ or 6×8″ canvas boards. For day two bring one or two 8×10″, 9×12″ canvas or slightly bigger canvases or boards.
-Plein air easel  (french easel, pocade box etc) You can rent one from Jackson Art.
-Optional: Easel Umbrella for glare from sun
–Oil Paints or Acrylics:  (you can also get water soluble oil paints or open acrylics)
Limited Palette  (I like Gamblin )
Bring what you have. This is suggested list:
Titanium white
Ultramarine Blue
Prussian or Phthalo Blue (optional)
Cad yellow light or Lemon Yellow
Cadmium Orange
Cadmium Red or Cadmium Red Light
Aliziran Crimson or Quinacrodine Red (optional)
Dioxine Purple (optional)
Pthalo Green (optional)
-Optional Variety of brushes  (I use flats/brights size 4,6,8)
-Palette knife with neck and pointed tip
-Brush washer or jar to put mineral spirits
-Oderless Mineral Spirits (Gamasol required for indoors for oils painters- it is oderless)
-Medium for oils- Solvent Free Gel or Liquin (optional)
-Rags or paper towels
-Palette to mix on
-Plastic bag for trash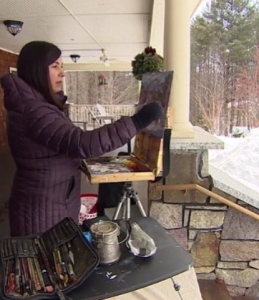 Melanie Barash Levitt graduated in 1990 from the Rhode Island School of Design and received a BFA in Graphic Design. She worked in the graphic design industry for over fifteen years and was part of the creative team for the 1996 Olympics in Atlanta. Melanie spent a year living in Japan and that time had a great influence on her life and her art. She has painted her whole life, but fell in love with plein air (outdoor) painting over fifteen years ago on Monhegan Island off the coast of Maine. She still paints there in the Summer, but mostly enjoys setting up her easel outside and painting the local landscape of the White Mountains of NH where she resides. Being outside in nature and taking in the scene and translating that beauty on canvas is her true passion.
Melanie paints in a loose, impressionistic style with a brush or a palette knife and likes to focus on creating light and color harmony in her paintings. She also teaches oil painting and printmaking at her studio, Jackson Art, and runs art camps for kids in the Summer. Melanie's artwork resides is in the home of many collectors through the US, Canada and Europe. She exhibits her work in galleries and shows throughout NH and ME and has been featured on Boston Chronicle, WCBV TV (ABC) and been published in Boston Voyager Magazine. She also has won numerous awards for her paintings.