A No-Fear Approach to Painting Large Outdoors w/ Kyle Buckland (Fall Foliage)
Date: October 15-16
Time: 9am-4pm
Age: Adults & high school aged students
Price: $295
Artist: Kyle Buckland
Fall in the White Mountains of NH is one of the most beautiful times to paint! This workshop will take place during PEAK FOLIAGE.
Have you been wanting to paint large plein air paintings but aren't sure where to start? Join nationally acclaimed plein air painter, Kyle Buckland, for this Fall weekend workshop where he will equip you with the tools, knowledge and techniques to paint BIG canvases (16×20″  to 36″x48″) outdoors in one go or "alla prima". This workshop will include a full demo and lecture each morning with opportunities for one on one instruction with Kyle in the afternoons during your painting sessions. Class size is limited to allow for individual attention. Locations TBD. Saturday & Sunday, Oct 15&16, 9am-4pm, $295
Cancellation Policy: We ask that you to give us four weeks notice if you need to cancel for a full refund minus a $35 cancellation fee. Cancellations should be made by phone by calling (603) 387-3463. This provides us the opportunity to fill the space. We are sorry, but we cannot give refunds or issue credits for missed classes or no shows.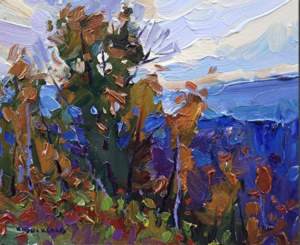 Workshop Materials List:
3 Stretched Canvas or Linen size 16″x20″ or larger (up to 36″x48″)
Sturdy plein air easel large enough to support you canvas (Kyle recommends a Gloucester style easel such as the "Take it Easel" or "Beauport Easel" with a 12″x16″ or 16″x20″ size Gloucester Palette Box from Shamrock Plein Air Equipment. A full box french easel is also a suitable option for canvases up to 24″x30″)
Palette at least 10 1/2″ x 15 1/2″
Artist Grade Oil Paint 150ml tubes or larger (if cost is an issue, Kyle recommends Van Gogh Oils by Royal Talens as a suitable "student grade" paint)
Permanent Madder Deep
Cad. Red Light
Cad. Yellow Light
Phthalo Blue
Ultramarine Blue
Burnt Sienna
Yellow Ochre
Ivory Black
Titanium White
Bristle Brushes Flats and Rounds size 2,4,6,8,10,12
A small palette knife
A cup for holding your medium while you paint (Make sure its large enough to dip a #12 flat brush in)
Oil Painting Medium (Kyle uses Galkyd Medium thinned with Gamsol Thinner
at a ratio of 3/4 galkyd to 1/4 gamsol)
Brush washer filled with thinner
Durable paper towels such as Viva or Bounty
Nitrile gloves
Trash bag
*If high winds are in the forecast, Kyle recommends bringing a couple 10lb velcro ankle weights to help stabilize your easel.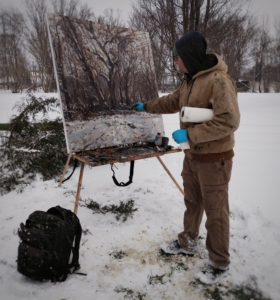 Kyle Buckland was born in Wilmington, Delaware, in January of 1984. Both parents fostered in him a deep appreciation for the arts and nature. As a child, his home was filled with a myriad of art objects and hundreds of art books of all genre. At age thirteen, after reading John Rewald's The History of Impressionism, he began to take a keen interest in the French painters and the philosophies regarding plein air painting. He first became infatuated with the work of Monet, specifically his use of blues and purples to depict shadows and his ability to capture colored atmosphere.
At about age fourteen, he purchased Daniel Wildenstein's four volume, fifteen-hundred page catalogue raisonne of Monet's work, and within a year he had literally worn the covers off the books. Within this same period, he moved with his family from the inner city of Wilmington, five hundred miles south, to the Appalachian region of Southwestern Virginia. There, surrounded by mountains and lakes and thousand acre farms (some older than America, herself), he began to emulate the greats by moving outdoors and painting en plein air. At age 16, he traded his acrylics for oils and began a long personal and obsessive journey in an attempt to capture the colored nuances of the world around him.
Today, his style of painting, which is deeply rooted in the fundamental philosophies regarding Impressionism, is as unique as his subject matter is inviting. His work has been featured at Outdoor Painter.com, the home of Plein Air Magazine, over half a dozen times. He has won numerous awards, conducted paint-outs and taught painting classes at every level. His work is represented in hundreds of private, public and corporate collections around the world. He now resides in a small nineteenth century farm house/studio in Abingdon, Virginia, with his lovely wife, Jennifer, an artist in her own right, and their two dogs and two cats.