Teen Summer Studio Arts, July 2-6, (4 night workshop-NO CLASS ON JULY 4)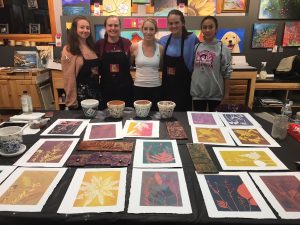 Description:
With Melanie Levitt
This evening program for  teens will run for four nights and will expose students to a variety of art forms including  painting, printmaking, mixed media and mosaics.  Day one will focus on acrylic painting. Each student will work on their own unique painting. Color mixing, composition, and use of materials will be covered. Day two will focus on printmaking. Students will learn how to use the  printing press and the learn the process of creating a watercolor monotype. Day four we will focus on mixed media. Students will create a unique piece of art using recycled materials. The last day will focus on mosaics. Students will create their own mosaic project using broken tile, glass beads, stones, shells and other materials. All the supplies are included, but students should bring a notebook or sketchbook. No prior art experience is required and all levels are welcome. Class will be limited to 8 students to allow for individual attention. A limited amount of scholarships are available for those in need.
Cancellation Policy. We ask that you to give us three weeks notice if you need to cancel. You will receive a full refund minus $20 cancellation fee.  Cancellations should be made by phone by calling (603) 387-3463. This provides us the opportunity to fill the space. We are sorry, but we cannot give refunds or issue credits for 'no shows'.